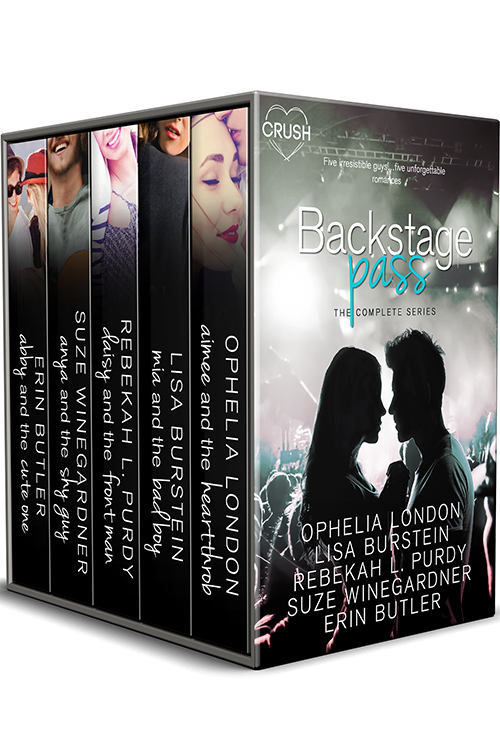 Welcome to Swoon Sunday where you get to meet some of our swoon-worthy heroes.  Today we have a visit from Nathan Strong from Abby and the Cute One by Erin Butler, the fifth book in the Backstage Pass Boxset!
Nathan, how about you describe yourself for us?
I'll break it down for you like all the teen mags do.
Nathan Strong
Age: 16
Hair: Brown
Eyes: Hazel
Hometown: A little town in PA no one has ever heard of
Favorite song on debut album: "The One"
Turn ons: Drive and passion
His dream date: A night under the stars.
Quote to live by: "Seize the moment."
Basically, that's me in a nutshell, but you've only skimmed the surface. ?
What's your profession?
Most people would call me a pop star, but I kind of hate that terminology. I prefer just plain old singer. I like to make people feel things through music.
What kind of music do you listen to?
I listen to anything and everything. Recently, I've been listening to a lot of Abby Curtis while she works on her new album. It's amazing. (It really is, I'm not just saying that because she's my girl.) I've also been listening to "Sittin' on the Dock of the Bay" by Otis Redding on repeat. Then there's Rachel Platten, Christina Perri, my boys One Direction, fun., Coldplay, Michael Jackson…I could go on and on. Music is my life.
What is your biggest dream/wish/desire?
I'm living my dream. I get to share my soul with the world through music. I couldn't ask for anything more.
What would be your idea of an ideal vacation?
A private island, preferably somewhere warm and where the paparazzi can't come. I'd love to stay a few weeks after the tour on that island living in a beach bungalow steps from beautiful turquoise water so I can decompress.
Describe the craziest thing you have done.
Tried out for Rockstars: Live! But look where it got me. I owe everything I have to that show. It proves you should do the thing that scares you the most. It'll give you the biggest rewards.
What is one thing would you refuse to share?
Whether I wear boxers or briefs. It's funny because that's what all the reporters seem to want to know!
Froot Loops or Lucky Charms (or both)?
No competition. Lucky Charms.
What is your biggest pet peeve?
Paparazzi who won't stay out of my business.
 Thank you so much for taking time out of your busy touring schedule to join us, Nathan. And now a small teaser from Abby and the Cute One…book #5 in Backstage Pass: The Complete Series!
Despite the fact that it was a terrible idea, she couldn't fight the fact she wanted it anyway. And the way he looked at her made her think he didn't want to fight it, either.

She reached out and trailed a finger from Nathan's wrist to his thumb, expertly stopping him from saying whatever he was about to say.

He closed his eyes. "You're making this extremely hard."

She licked her lips. Her mouth went dry as the words crowded on her tongue. She just had to sum up the courage to say it. "I think I'm trying to make it hard. At least this once."

"This is dumb."

"I agree."

He leaned toward her, and she stepped back until she bumped into the wall. He placed his palms on either side of her shoulders, capturing her between his intense gaze and the understanding that they shouldn't be doing this.

Just when Abby thought his lips were going to meet hers, he glided his cheek along her own and placed a soft kiss next to her ear. His breath tickled her skin as shots of nerves and pleasure engulfed her body.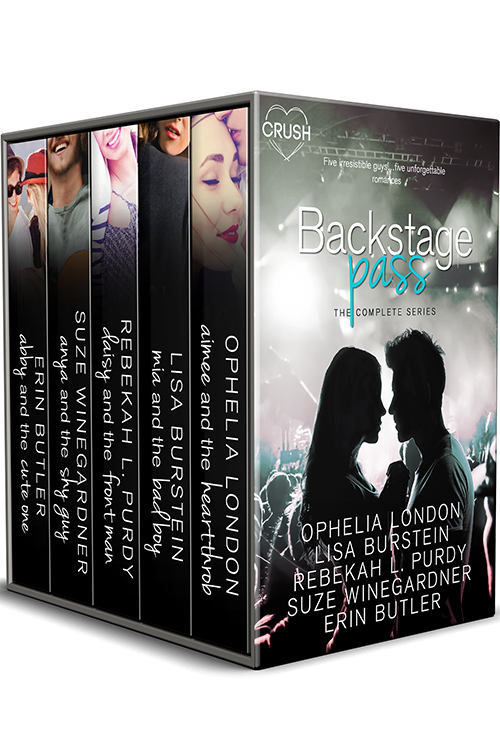 About Backstage Pass: The Complete Series (Backstage Pass, #1-5):
Five irresistible guys…five unforgettable romances

Step backstage with the guys of Seconds to Juliet—the hottest boy band to hit the scene in years—and the girls who capture their hearts. Superstardom has never been so sexy…

Join the fandom. Just click the button.

Aimee and the Heartthrob by Ophelia London

Mia and the Bad Boy by Lisa Burstein

Daisy and the Front Man by Rebekah L. Purdy

Anya and the Shy Guy by Suze Winegardner

Abby and the Cute One by Erin Butler
Want to read more? Pre-order Backstage Pass: The Complete Series (Backstage Pass, #1-5) now: