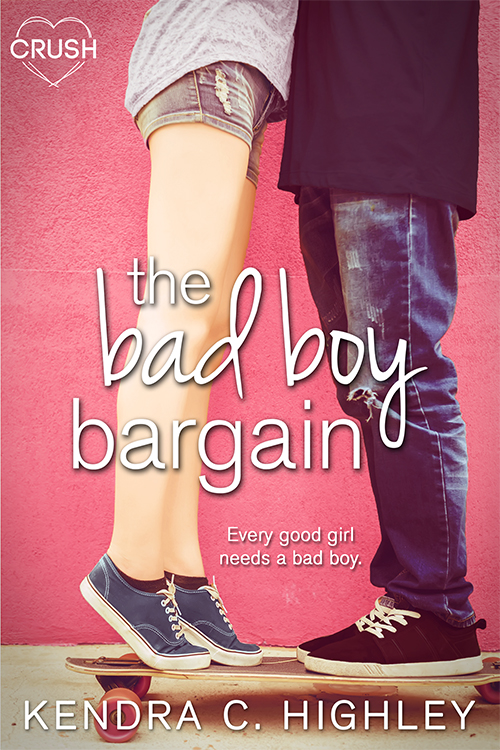 Get ready to swoon….
If you love contemporary YA romances, then you don't want to miss these new books from Kendra C. Highley and Tera Lynn Childs! Kendra's The Bad Boy Bargain is the perfect book for people who love sports romances… especially the kind that start with a fake romance meant to get the rumor mill buzzing. And of course, Tera's novel is the fifth book set at Austin NextGen Academy  and the second focusing on Sloane and Tru. Whether you've read the other books in the series yet or not, you'll fall for this swoony couple.
About The Bad Boy Bargain:
Baseball player Kyle Sawyer has many labels: bad boy, delinquent, ladies' man, fearless outfielder… Only one of them is actually true. But then sweet ballet dancer Faith Gladwell asks him to help wreck her reputation, and everything goes sideways.

Faith knows a thing or two about love, and what she had with her cheating jerk of an ex wasn't it. When he starts spreading rumors about her being an Ice Queen, Faith decides it's time to let a little bad into her life.

Lucky for her, Kyle Sawyer—dark, dangerous, totally swoonworthy Kyle Sawyer—is landscaping her backyard over Spring Break. Shirtless. And if she can convince him to play along, "dating" Kyle will silence the rumors.

But Faith's plan threatens to expose Sawyer's biggest secret of all…and that's a risk he's not willing to take.

Disclaimer: This book contains drop-the-book-and-fan-yourself kisses…and touches. Fall in love with a bad boy at your own risk.
Want to read more? Buy The Bad Boy Bargain today!

Follow along with the Blog Tour! About Falling for the Girl Next Door (Creative HeArts, #5; Sloane and Tru, #2):

One real boyfriend + one fake boyfriend = a whole lot of trouble.

Sloane Whitaker never expected to like living in Texas, but after a few months in the Lone Star State, she has to admit she likes the food, the school, and the boy next door. What she doesn't like is the fact that half her family is still back in New York. Convincing her dad to relocate to Texas requires making their upcoming visit as perfect as possible. The perfect dinner, the perfect daughter…with the perfect boyfriend.

But when her not-so-perfect boyfriend Tru Dorsey is suddenly not-so-available, Sloane has to find another dad-impressing guy to show off at dinner. Tru himself suggests enlisting the help of a fake boyfriend, but the reality of another guy with Sloane on his arm might be more than Tru can manage. Add in a mysterious blackmailer and a divided family, and Sloane and Tru's relationship might not be able to handle the heat.

Disclaimer: This Entangled Teen Crush book contains a bad boy next door, the good girl who snags his heart, and one epically disastrous ruse-gone-wrong. Join the fun at your own risk.

Want to read more? Buy Falling for the Girl Next Door (Creative HeArts, #5; Sloane and Tru, #2) today!

About Author