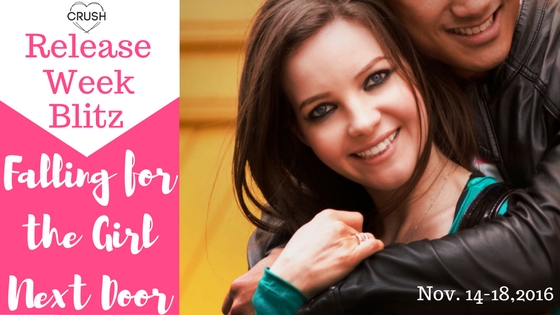 Fall in love with Falling for the Girl Next Door during the Release Week Blitz!
From November 14-18, 2016, Entangled TEEN is celebrating the release of  Falling for the Girl Next Door with a release week blitz, and we wanted to share in the fun with you!
Check out this excerpt from Tru's POV that makes our hearts go pitter patter:
By lunchtime, the morning clouds had cleared, and the bright blue of a clear sky and soft winter sunlight practically begged Tru to film something.

He pulled his smartphone out of his pocket and opened the camera app. If he had his choice of gear, this wasn't even in the top ten. He had three quality cameras at home and there were at least a dozen in the Cinematography classroom in Building F. Hell, he even had a decent handheld in his backpack.

But what the smartphone gave up in quality, it more than made up for in portability and the ability to take candid footage.

Sloane didn't even notice when he started filming.

Her friend Jenna glanced at the camera and then back down at her carefully arranged lunch.

Tru loved capturing these secret moments. Not just with Sloane, although he probably loved those the most, but in everyday life in general. Those instances that happened over and over again, most of the time without anyone taking any more notice than they do of a gentle breeze.

To capture those moments, to document them for eternity—or at least as long as the technology would allow—made him feel like he was contributing to something greater than himself.

Like he was turning life into art.

And the intersection of life and art described his relationship with Sloane perfectly. She came into his life at a low point, at a moment when the prospect of spending another year in the uncertain torment of life under his father's roof was becoming unbearable. She moved in next door and provided a light at the end of the tunnel. If he could just keep walking toward her, just keep her light in sight, then maybe—just maybe—he could make it out alive.

He knew he was being a bit melodramatic. His life wasn't actually on the line. The situation with his father never escalated to a dangerous level. But escape was almost always on Tru's mind. Sometimes he felt like he might go insane under the constant scrutiny and attempted control.

Ever since Sloane and her mom moved in next door, he'd been thinking about escape less and less.

She gave him a reason to stay.

"Hey!"

A grape popped him in the forehead as Sloane finally realized he was filming her.

"What?" he asked with a grin, shaking off his dark thoughts.

"We talked about this," she said. "No filming me without warning."

"No, you talked about it." He kept filming. "I never agreed to anything."

She reached for the phone, but he pulled it out of reach, careful to keep her in the frame.

"This is why I can't bring you home to meet Mom," she teased.

He knew she meant it as a joke—he'd met her mom dozens of times. They were neighbors, after all. But there was an edge of truth beneath the sarcasm. An edge just big enough to sharpen his own humor.

"But does it explain why I can't bring you home to meet the 'rents?" he tossed back.

He regretted the words as soon as he said them. He couldn't be prouder of Sloane or of being her boyfriend. To even suggest she wasn't good enough for his family was ridiculous. Especially when the opposite was actually true. He wasn't good enough for hers.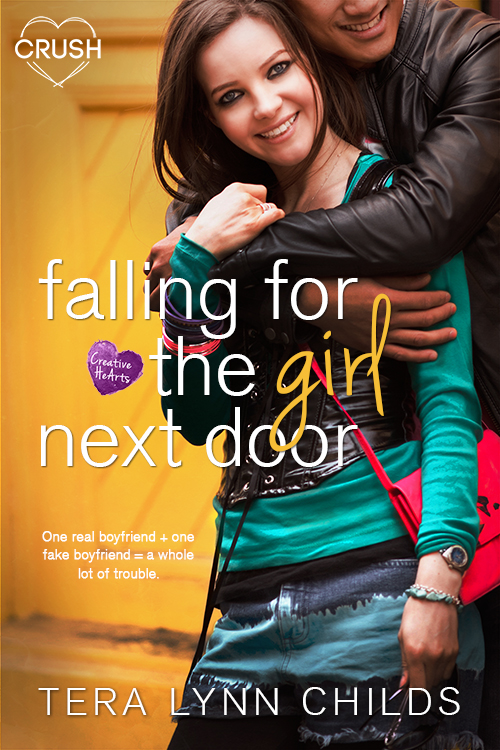 About Falling for the Girl Next Door:
One real boyfriend + one fake boyfriend = a whole lot of trouble.

Sloane Whitaker never expected to like living in Texas, but after a few months in the Lone Star State, she has to admit she likes the food, the school, and the boy next door. What she doesn't like is the fact that half her family is still back in New York. Convincing her dad to relocate to Texas requires making their upcoming visit as perfect as possible. The perfect dinner, the perfect daughter…with the perfect boyfriend.

But when her not-so-perfect boyfriend Tru Dorsey is suddenly not-so-available, Sloane has to find another dad-impressing guy to show off at dinner. Tru himself suggests enlisting the help of a fake boyfriend, but the reality of another guy with Sloane on his arm might be more than Tru can manage. Add in a mysterious blackmailer and a divided family, and Sloane and Tru's relationship might not be able to handle the heat.

Disclaimer: This Entangled Teen Crush book contains a bad boy next door, the good girl who snags his heart, and one epically disastrous ruse-gone-wrong. Join the fun at your own risk.
Want to Read More? Pre-order Falling for the Girl Next Door (Creative HeArts, #5; Sloane and Tru, #2) Today!

About Author