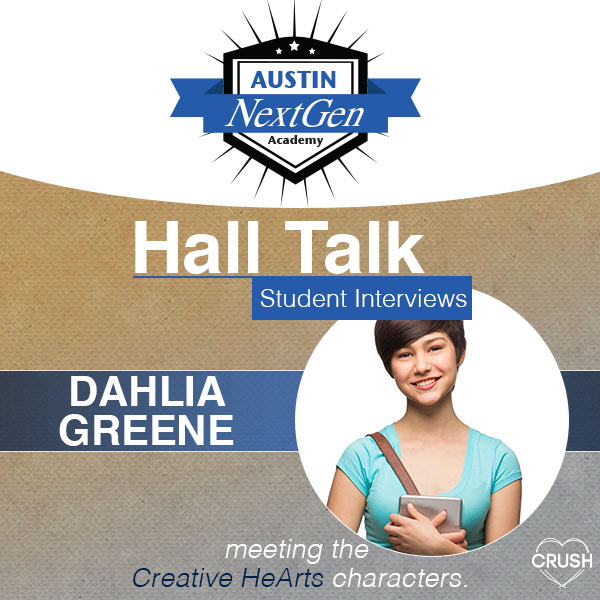 Dahlia's Basic Info:
Name: Dahlia Greene
Student ID: 100 700 423
Class: Senior
Home Town: Everywhere and nowhere.
What Dahlia Looks Like:
Height: Tiny, tiny, tiny
Hair: Short brown pixie cut hair
Eyes: Dark blue eyes
Other Distinguishing Features: Pale jeans, flannel shirts. Total hipster vibe.
Dahlia's Artwork:
In real life, Dahlia is actually a popstar, but at Austin NextGen, she's trying to break into the singer songwriter stream.
Keegan Matthews Interviews Dahlia Greene
What is one thing no one else knows about you?
With you it's John Hughes' movies, with me…I know the lyrics to every single One Direction song ever recorded.
Keegan: No, you don't!
Dahlia: Yeah, I do.
Keegan:  I've never even heard you listen to them. There's no way you actually know every single one of their lyrics.
Dahlia: Try me.
Keegan: I can't! You could say anything, and I'd have to take your word for it. I don't think I've ever heard one of their songs. Except for that make you beautiful one.
Dahlia: Well then, you're missing out.  Just saying. Made in the A.M. Absolutely great album.
Is there any song that you hear on the radio or at a school dance, and think, "Oh no…not this song again!"?
Umm, pretty much anything by Cherry.
Keegan: Seriously? You don't like listening to your own music at all?
Dahlia: It's not that, it's just…that's a different life, you know? And I'm really enjoying the one I'm living right now…
Keegan: I'm a little worried about you now.
Dahlia: You can quote Home Alone 3, and you're worried about me?
Keegan: Hey! That movie was highly underrated.
Dahlia: Exactly my point.  Next question?
You collect postcards with the album covers of your favorite bands on them…but you've got a bunch of rules about what you can buy and from where. How did you come up with the rules, and why stick with them if it means that you may never be able to complete your collections?
I know it sounds crazy to have all those stupid rules, but from the time I was twelve, there were no real rules, you know? It was just, do whatever you need to do to get famous. And then it was, do whatever you need to do to stay famous. Which means I got to travel to all these great places all over the world, but I never really got to see them. I was always too busy doing interviews or photo shoots or concerts. So a couple years ago, I decided that I would take a couple hours just for me in whatever new city we went to.  I'd do one cool thing that I wanted to do, and then everything else would be okay. No matter how many interviews I did or how many nights I went without sleep because of work stuff, if I just had those couple of hours—and the postcard at the end of it—then I could get through everything else.
And honestly, I kind of hope I never complete my collection. There are still way too many cities for me to visit.
I know you love ice cream, but what flavor is your favorite? And what flavor would best represent who you are as a person?
Would it be really wrong for me to say Cherry Garcia? Okay, okay, I know it would.  But it's so, soooo good.
Keegan: That can be your favorite flavor. But what flavor really represents who you are?
Dahlia: Rocky Road
Keegan: Enough said.
Dahlia: Yeah. Next question?
I know pretty much everything there is to know about Austin, but you've been all over the world. If you could give a list of your top 10 places to visit in the world, what would they be?
Only ten? Okay, fine.
Shakespeare and Co.: It's a little bookstore in Paris where you can spend the night for as long as you want. All the owners ask is that before you leave, you write your story and leave it on the shelves for whoever comes next. It's one of he best places I've ever visited, actually.
The Museum of Broken Relationships in Croatia: Coolest museum ever. People from all over the world send in an object from one of their broken relationships, along with a short story about why the relationship broke. Lovers, siblings, parents and children, friends. There are so many stories. I could write a million songs just walking through the gallery.
Greenwich Observatory: Best view of London ever
The new library at Alexandria in Egypt: They're rebuilding it, and it's one of the most gorgeous, fascinating places I've ever been.
Everyone should be kissed at the top of the Empire State Building at least once in their lives
Balboa Park in San Diego: pick three museums to visit (as long as one is the Museum of Photography) and then bring a picnic
Any of the clubs in the Kruezeberg area of Berlin: One of the best EDM music scenes ever, but they've got a lot of other music going on too
Rough Trade East Record store in London: Best. Music. Store. EVER.
Goorin Bros: Hat Shop in the French Quarter—so much fun
Bondi Beach in Australia
Since you've gone through the emancipation process, what is one thing that other teens who haven't done it might not understand about the experience?
It's really hard to sit in a courtroom and tell a stranger all the reasons why your family doesn't work.  I mean, I'm the one who petitioned for emancipation, but it was really hard to just sit there and list all the ways my father failed me. When it's happening, you try not to think about it. You focus on what's not so bad, and then there you are in court, and the list is right there, and it's huge and messy and terrible.
Other than singing and writing music, what is your favorite way to spend the day?
With you. 🙂 And also, discovering some new, out of the way place that not a lot of people know about. I love going to places and finding out where the locals eat or shop or hang out. That's when you get to feel the real rhythm of a place.
So many teens just download a song or two that we love from an album or stream a few songs via a Spotify or Pandora playlist. What do you think today's teens miss out on by not experiencing a full album in its entirety?
An album is a journey—for the artist and for the listener.  Sure, there are songs on each album that are meant to be singles because we think they'll appeal to the widest audience, but listening to an album from the beginning to the end…that's how you get to hear the whole story, not just a piece of it. Everyone wants to know their favorite artists. They want to follow and be followed on Twitter or Instagram or Tumblr. But they don't really want to get to know those artists. They don't really want to listen to what we have to say. Every experience is different and how we document those experiences is different. Every album is a snapshot of a certain time in an artist's life.  It's a key to the way an artist experiences the world, and if you just listen to a song or two from an album, you'll miss out on sharing that life experience.
Check out this short teaser from Tracy Deebs' The Secret Life of a Dream Girl in which Dahlia imagines what really being a regular girl would be like:
For a second, just a second, I let myself think about what that would be like. Just going on a regular date with a regular guy. Dinner at some little dive, maybe catching a film that doesn't involve a red carpet. Walking through the SoCo shops holding hands…it'd be really nice. But then reality comes crashing down on me, because I haven't been able to go shopping in years without being recognized. And the absolute last thing I can do is go on a regular date with a regular guy when "regular" is the one word that absolutely can't be applied to me.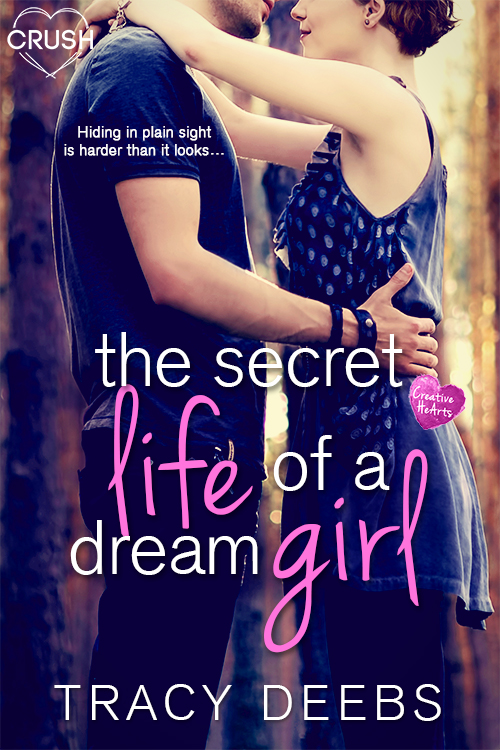 About The Secret Life of a Dream Girl (Creative HeArts, #4):
Disclaimer: This Entangled Teen Crush book contains adult language, references to drinking and drugs, and a kiss so steamy it'll fog up your ereader.

Hiding in plain sight is harder than it looks…

Dahlia Greene—aka international pop superstar Cherry—is undercover as a normal high school student. She just wants to experience what real life is like, so when she overhears hottie Keegan Matthews nervously talking about liking a girl, she sees the perfect opportunity to live a real life and play a little matchmaker. What was not part of the plan was falling for a guy she can never tell the truth.

Keegan Matthews has been secretly crushing on Dahlia ever since she started at his school. Sure, Dahlia thinks he's crushing on some other girl—not realizing his Dream Girl is actually her—but he figures, play along with her tips to woo someone else, let her get to know him, and then make his move. But with so many secrets in the mix, their romance is doomed from the start…

Dahlia and Keegan, Book 1 of 3
Dahlia and Keegan Book 2 coming March 2017
Want To Read More? Buy The Secret Life of a Dream Girl (Creative HeArts, #4) by Tracy Deebs now:

About Author