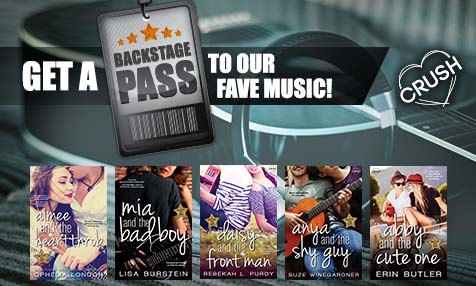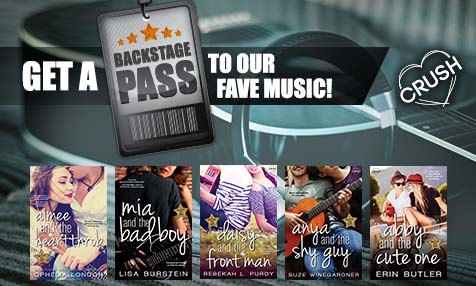 To celebrate the release of Erin Butler's Abby and the Cute One, some of the Entangled Publishing Team are  Sharing their Fave Music!
Whether or not you can play music, it's hard for most people to imagine a world without music in it. As a way to celebrate Abby and the Cute One by Erin Butler's release, we thought it would be fun to share some of the music that both the authors of the Backstage Pass Series and some members of the Entangled Publishing team REALLY love. We hope that whether you're new to the series or have been following along with Aimee and the Heartthrob, Mia and the Bad Boy, Daisy and the Front Man, Anya and Shy Guy or are new to the series that you're excited to not only see what music the authors love, but also learn a little more about the team at Entangled at the same time.

Now's your chance to find out a little more about the marketing and publicity team as they take time out of their busy schedules to let us know….
Melissa Montovani, TEEN Publicist:
I tried to stick to 2-3 songs as I asked the rest of the Entangled team, but sorry…couldn't do it. It's an impossible choice, just as it would've been had I been asked my fave books. I'm sure that you understand. 🙂
1. Hailee Steinfeld, "Flashlight":

I first saw Hailee Steinfeld in the movie Begin Again. I loved her voice then, and I continued to love it in Pitch Perfect 2. Since I saw the latter movie, I have been known to listen to this song on repeat during my work days.
2. Chvrches, "Leave A Trace":
Ever since Chvrches came out with the song "The Mother We Share," I've loved them, but this song is the one that I listen to the most often now.
3. Lykke Li, "Dance, Dance, Dance":
When I started my book blog back in 2010, this song became what I called my "happy dance song." I played it whenever I got a package from an author or publisher that I was excited about. Even now, it still makes me want to dance.
4. The Postal Service, "Such Great Heights":
I love everything that Ben Gibbard does – whether it's The Postal Service, Death Cab for Cutie, or his cover of Alvvays' "Archie, Marry Me," but rather than choose one from all of the above projects, I made the hard choice to pick just one of them.
5. Hayden, "Rainy Saturday":
I've been listening to Hayden for 20 years. I love all of his songs, but you probably don't know him or his music. He's a Canadian musician from Toronto – the city where I live – and I see him in concert at least a couple of times a year, whether at his annual benefit concert Dream Serenade, at a small, intimate show where he's headlining, or a larger venue where he's the opening band.
Jasmine Hodge, TEEN Publicity Intern:
1. Taylor Swift, "We Are Never Ever Getting Back Together":
I can't make a list of my favorite bands or singers without my beloved Tay-Tay, right? I usually listen to singer/songwriters or folk but when I don't, Taylor Swift is where it's at. The country turned pop star's music always makes me want to dance. Plus, the video for We Are Never Ever Getting Back Together was filmed in ONE SHOT. How cool is that?
2. Ed Sheeran, "Don't":
I love Ed Sheeran. He's a great mix of the indie sound with rap and lyricism and pop. I saw him in concert when he opened for Taylor Swift and I want to see his headliner someday (hopefully someday soon). I also love his collaborations with other artists – they are always fantastic.
3. He Is We, "Happily Ever After":
He is We is an indie pop band from Tacoma, Washington. I love their style and their lyrics. Catchy like Taylor Swift but with some absolutely beautiful writing. Even though this band consists only of two people, I think their sound is great and I listened to them nonstop on an 8 hour bus ride to Oregon. Some of my Favorite are "Light a Way," "Pardon Me," and "A Mess it Grows."
Rhianna Walker, Publicity Specialist:
I must admit, boy bands have never been my thing with the exception of the original boy band, The Beatles. I'm of the mind that you either like the Beatles or you're wrong. When you're named after a fantastic rock song from the 1970s though, you wind up loving all kinds of music. Here are a couple of my all­-time favorite bands:
1. Incubus, "Dig":
If you've never heard "Dig" you're missing one of the loveliest songs ever written. I could totally see S2J doing a great cover of it.
2. Lord Huron, "Ends of the Earth":

One of my newer favorites is Lord Huron and specifically the following song. Did I mention my taste runs eclectic?
3. Flight of the Conchords, "Demon Woman":
To close out I'd be remiss if I didn't include Flight of the Conchords. Catchy,funny, and utterly inappropriate most of the time, in fact my favorites aren't YA friendly so I'll share the song I have as my alarm ringtone instead. (Editors note: this video has embedding disabled, so you'll have to check it out on YouTube directly. Sorry!)
Katie Clapsadl, Publicity & Foreign Rights:
1. Lifehouse, "Between the Raindrops ft. Natasha Bedingfield":

2. Nickleback, "Never Gonna Be Alone":
3. Pitbull, "Timber ft. Ke$ha":
And heck just to mix it up and go with a 3rd that's a completely different genre…. Pitbull is always good for a pick me up.
Heather Riccio, Assistant Publisher:
These are the ones I love currently. And I do love Timber as well! LOL!
1. Adele, "Hello":
2. Enrique Iglesias,  "Bailando by ft.  Sean Paul, Descemer Bueno, Gente De Zona":
(Love the Spanish version as well!) FYI if you listen to them side-by-side, they work as a mash-up!

3. Shawn Mendes, "Stitches": 
4. Hozier, "Take Me To Church":
He's amazing in concert. I saw him in Memphis with Ed Sheeran.
5. 'N Sync, "Bye Bye Bye":
Yes, I've seen them in concert and know all the moves! LOL!
Debbie Suzuki, Publicity Director:
Here are some of my faves:
1. Christina Perri, "A Thousand Years":
(Editor's note: What Debbie didn't realize is that this is one of the songs featured in some key scenes Abby and the Cute One.)
2. Macklemore & Ryan Lewis, "Thrift Shop ft. Wanz"
3. Taylor Swift, "Shake It Off":
4. New Kids on the Block, "You Got It (The Right Stuff)":
And a tribute to the boy bands: my favorite group growing up 🙂
What music do you love? Share some of your faves in the comments, and while you're at it, don't forget to pick up your copy of Abby and the Cute One, which is on sale today!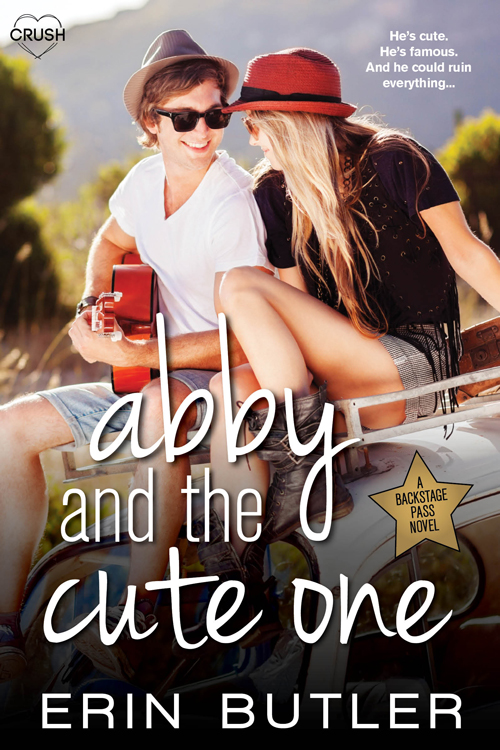 About Abby and the Cute One:
He's cute. He's famous. And he could ruin everything…

Every member of Seconds to Juliet has a girlfriend-except for Nathan Strong. Now the band's manager is leaning hard on "The Cute One" to play the role of the band's heartthrob. With the band's sales in decline, it's up to Nathan to keep the fans' fantasy alive.

The plan is to stage a fake relationship and a fake breakup, and then let the fans fight to be the one to mend Nathan's broken heart. Just one problem. There's another girl in the picture-one Nathan can't stay away from. In private, Nathan's stealing kisses with the band's new opening act, Abby Curtis.

If they're caught, no one wins. Abby will be fired, and the band might not recover the success they need to survive. But even with the pressure mounting, Nathan and Abby can't stop themselves from stealing one more touch, one more kiss. And it's only a matter of time before it all falls apart.

This Entangled Teen Crush book is as forbidden as the secret romance it contains! It has hot kisses, graphic language, and extreme misbehaving. DO NOT GET CAUGHT WITH THIS BOOK…unless you want everyone to know you believe in true love.
Want to read more? Buy Abby and the Cute One now:
About Author