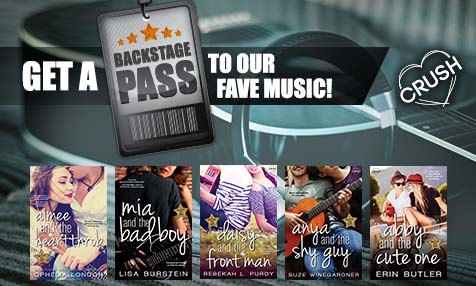 To celebrate the release of Erin Butler's Abby and the Cute One, some of the Backstage Pass Authors' Share their Fave Music!
Whether or not you can play music, it's hard for most people to imagine a world without music in it. It should come as no surprise that the authors of the Backstage Pass Series, five YA novels from Entangled's Crush line, all #GottaMusicCrush on at least a few bands. For those who are new to the series, you should know that each book focuses on the romance that blossoms between one of the five members of the boy band, Seconds to Juliet, and Aimee, Mia, Daisy, Anya, and of course, Abby, who is a talented musician in her own right.
But did you ever wonder what the authors of Aimee and the Heartthrob, Mia and the Bad Boy, Daisy and the Front Man, Anya and the Shy Guy, and last but not least, Abby and the Cute One REALLY love to listen to when they aren't writing their installment in this series? Now's your chance to find out as some of these authors take time out of their busy schedules to let us know….
Ophelia London
The self-professed "raging music-aholic" decided to narrow her top three song picks down to the music of some of her fave boy bands!
1. Backstreet Boys, "All I Have to Give": This is my favorite live version of my favorite song!

2. MyFly, "She Left Me":Huge in the UK, but not so big in the U.S. But I love, love, love me some McFly! And they're British, hello! This is another live version of my fave McFly song! 
3. Hoobastank, "The Reason": The guys from Hoobastank might not be considered a proper boyband, but dang it all—do I love this song!
Rebekah L. Purdy
I kind of like a little bit of everything. From oldies to operas and musicals, to boy bands, and rock music. So my list is kind of all over the place. And my daughter and niece introduced me to K-Pop a few years ago, which is super catchy.
Here are a few of my favorite bands:
1. The Beatles:  Because they'll always be iconic.
2. New Kids on the Block: Because they were the boy band of my day–LOL.
3. One Direction and The Vamps: These two bands are tied for 3rd because I like them both equally!
4. NU'EST, "Action":
And the video I want to share with everyone is a K-Pop band called, NU'EST with their song Action. For anyone who's read Daisy and the Front Man, you'll know that Trevin was Korean American, and he was inspired by some of the K-Pop songs I listened to while I was writing this book:
Suze Winegardner
1. Jackson Five, "The Jacksons Medley":
This is Suze with your history lesson for the day! I think by now you have realized that some of us love boybands, and all boybands have been modeled on the incredible success of the Jackson Five. The synchronized moves, the poppy songs…and the inevitable reunion concerts. (This video is rated "U" for unfortunate crotch grabbing, "CH" for cheese, and "W" for weird gold shin guards):
2. Take That, "Could It Be Magic":
Because I'm a Brit, this contribution to your boyband education is Take That. Born of the 90s, they had all the girls, and some guys, fainting in the front row (or pretending to faint so the security guards would take them backstage – it was a thing, I swear). This is from their reunion tour, and the number than inspired the track W.E.T (Woman Every Time) that Seconds to Juliet perform on their tour.
(This video is rated "B" for boys in the shower, "G" for getting the front row wet, and "S" for slipping hazard – just ask Matt from Anya and the Shy Guy). Start the video at 1:31 for the shower show:
Now for a short teaser from Abby and the Cute One by Erin Butler, which is available for pre-order now!
She smiled again, but this time the full power of her grin blasted her target—him. It did funny things to his stomach. Hopefully she couldn't see right through to his traitorous butterflies. Some suave bachelor he was turning out to be.

The guys would be so ashamed. Hell, he was ashamed. Nathan Strong was a pop star. He was supposed to be the new smooth member of the group, not falling all over himself because of a girl. For crying out loud, he sang love songs to thousands of girls almost every night, and he couldn't handle talking to just one?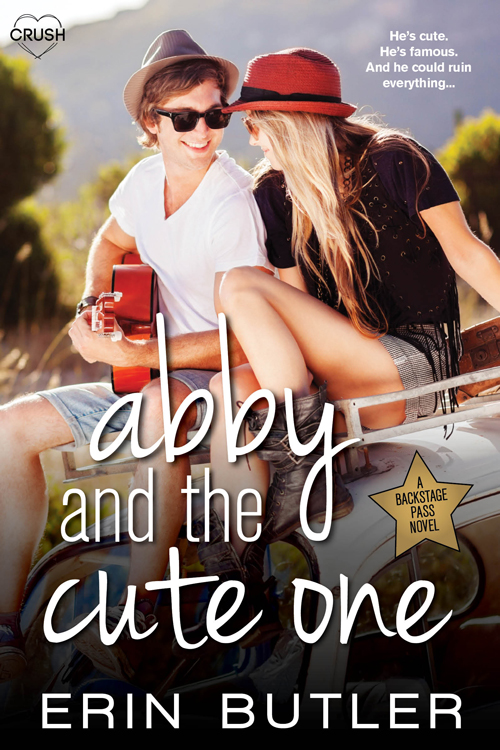 About Abby and the Cute One:
He's cute. He's famous. And he could ruin everything…

Every member of Seconds to Juliet has a girlfriend-except for Nathan Strong. Now the band's manager is leaning hard on "The Cute One" to play the role of the band's heartthrob. With the band's sales in decline, it's up to Nathan to keep the fans' fantasy alive.

The plan is to stage a fake relationship and a fake breakup, and then let the fans fight to be the one to mend Nathan's broken heart. Just one problem. There's another girl in the picture-one Nathan can't stay away from. In private, Nathan's stealing kisses with the band's new opening act, Abby Curtis.

If they're caught, no one wins. Abby will be fired, and the band might not recover the success they need to survive. But even with the pressure mounting, Nathan and Abby can't stop themselves from stealing one more touch, one more kiss. And it's only a matter of time before it all falls apart.

This Entangled Teen Crush book is as forbidden as the secret romance it contains! It has hot kisses, graphic language, and extreme misbehaving. DO NOT GET CAUGHT WITH THIS BOOK…unless you want everyone to know you believe in true love.
Want to read more? Abby and the Cute One now:
About Author