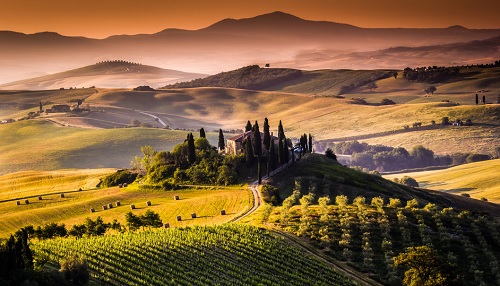 Welcome to Swoon Sunday where, today, you get to explore some of of the swoon-worthy settings from Cinderella's Shoes by Shonna Slayton!
Cinderella's Shoes takes place over several swoon-worthy locations. Today, Shonna Slayton stops by EntangledTeen.com to share with our readers the top 4 settings in the sequel to Cinderella's Dress that are particularly conducive to romantic encounters.Without further ado, here's Shonna:

The novel opens in 1940s New York in a hospital that looks like a castle (it's still there today, but has been converted to condos). When Kate finds a mysterious clue linked to her missing father, the characters set out on an adventure that takes them aboard the famed Queen Mary and then on to Italy and Poland, which make romantic interactions between Kate and Johnny much easier.
1. The Queen Mary:
It was the premier ship for crossing the Atlantic. If you were a movie star in the 1940s (like Bob Hope or Clark Gable) and needed to get to Europe, you took the Queen Mary. When the United Stated entered the war, the fast ship was converted to a troop ship. All the fine furnishing were placed in storage and bunk beds moved in.  However,  after the war, the Queen Mary was restored to her former glory. In Cinderella's Shoes,  the main characters, like Kate, Johnny, and Princess Nessa are on board for her first crossing. The art deco wood paneling and the dining hall that converts to a dance floor are the perfect backdrop for Kate and Johnny to get to know one another better—if only Kate wasn't sea sick!
2. Tuscany, Italy: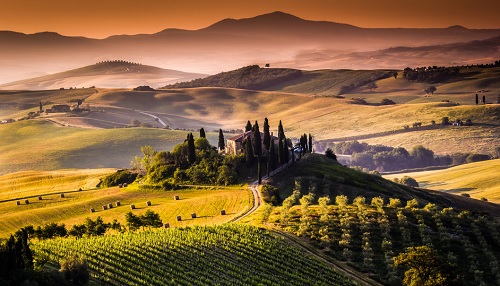 From The Queen Mary, Kate and the rest of the traveler's move on to Italy and the secret hideaway of Cinderella's descendants. They live out in the country on a large estate with an abandoned castle on the grounds. The food, the scents, and the gorgeous scenery of Italy are perferct for picnicking and romance. Here, they pick up additional clues that lead Kate (and a few others) on to Poland.
3. Zakopane, Poland:

After some difficulty traveling through the still war-torn parts of Europe, we end up in beautiful Zakopane, Poland. This mountainous region is a recreational area with plenty of hiking trails. The area is known for its unique wooden building style, and a special type of sheep-milk cheese that looks like little loaves of bread. This would be the perfect place to fall in love if you weren't too busy being chased by the descendants of the Evil Stepsisters. And if you hiked into a remote enough area, you might find a castle stamped with Cinderella's coat-of- arms.
4. The Crooked Forest in Poland: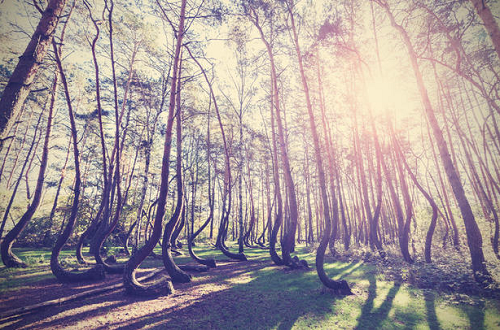 The last romantic location I want to point out is significant because of its natural fairy-tale quality. There is a forest in Poland nicknamed the Crooked Forest because its trees grow in the most unusual fashion. The strange bending of the forest's pine tree trunks that you see in the photo above occurred in the 1940s. While there are several explanations developed to explain why they bend this way, I reveal my own explanation in Cinderella's Shoes. (Pick up the novel on October 6, 2015 to find out what it is.)

 Thank you so much to Shonna Slayton for sharing these amazing settings. Now,  we want to share a short teaser in which Kate and Johnny have a "romantic" date in Italy:
"We really hav­en't had any time alone, have we?"

He slid his fingers down her arm until he was holding her hand. "Forces have been conspiring against us, but Mr. De Luca, our very own Fairy Godfather, has inter­vened. Let's forget about everyone else for now and just look at the stars." He pulled her to the telescope. "See if viewing the craters on the moon doesn't change your perspective of life on earth."

She put her eye to the eyepiece. Johnny slipped up behind her and put his hands on her waist.

"Tell me what you see," he said.

"Incoming!" Nessa called from down the hill.

Kate stood, and Johnny buried his forehead in her shoulder. "She has the worst timing."

Nessa marched over the rise with Lidka at her heels. "Babcia sent us up here to bring you a light to find your way home, but really, she's making sure you have chaper­ones. Dziadek made us wait before letting us go. He said young people need time to fall in love under the Mediter­ranean stars."

"I like the way he thinks," Johnny said, draping his arm around Kate.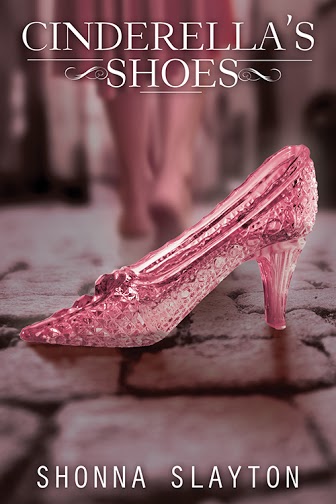 About the book:
The war may be over, but Kate Allen's life is still in upheaval. Not only has she discovered that Cinderella was real, but now she's been made Keeper of the Wardrobe, her sole responsibility to protect Cinderella's magical dresses from the greed of the evil stepsisters' modern descendants.

But Cinderella's dresses are just the beginning. It turns out that the priceless glass slippers might actually exist, too, and they could hold the power to reunite lost loved ones like her father—missing in action since World War II ended. As Kate and her boyfriend, Johnny, embark on an adventure from New York to Italy and Poland in search of the mysterious slippers, they will be tested in ways they never imagined.

Because when you harness Cinderella's magic, danger and evil are sure to follow…
Pre-order it online now:
About Author