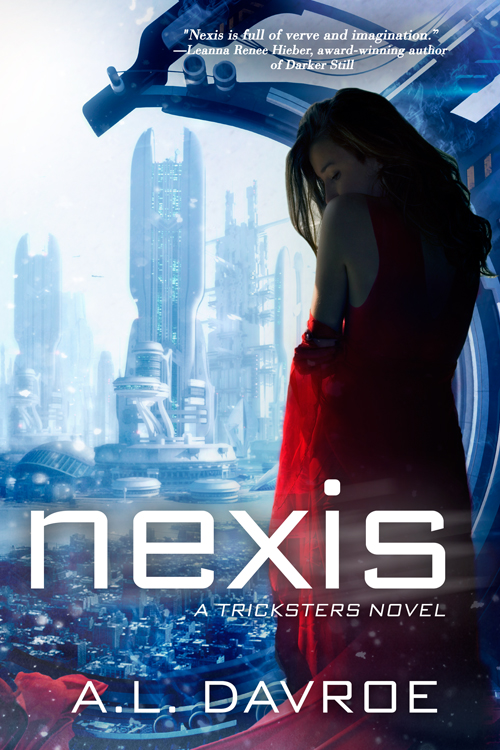 We are so excited to share this new release today!
About the book:
In the domed city of Evanescence, appearance is everything. A Natural Born amongst genetically-altered Aristocrats, all Ella ever wanted was to be like everyone else. Augmented, sparkling, and perfect. Then…the crash. Devastated by her father's death and struggling with her new physical limitations, Ella is terrified to learn she is not just alone, but little more than a prisoner.

Her only escape is to lose herself in Nexis, the hugely popular virtual reality game her father created. In Nexis she meets Guster, a senior player who guides Ella through the strange and compelling new world she now inhabits. He offers Ella guidance, friendship…and something more. Something that allows her to forget about the "real" world, and makes her feel whole again.

But Nexis isn't quite the game everyone thinks it is.

And it's been waiting for Ella.
Want to read more? Buy Nexis (Tricksters, #1) now:
About the book:
Freedom comes at a cost…

Ella was genetically engineered to be the perfect pet—graceful, demure…and kept. In a daring move, she escaped her captivity and took refuge in Canada. But while she can think and act as she pleases, the life of a liberated pet is just as confining as the Congressman's gilded cage. Her escape triggered a backlash, and now no one's safe, least 
of all the other pets. But she's trapped, unable to get back 
to Penn—the boy she loves—or help the girls who need her. 

Back in the United States, pets are turning up dead. With help from a very unexpected source, Ella slips deep into the dangerous black market, posing as a tarnished pet available to buy or sell. If she's lucky, she'll be able to rescue Penn and expose the truth about the breeding program. If she fails, Ella will pay not only with her life, but the lives 
of everyone she's tried to save…
Want to read more? Buy Tarnished (Perfected, #2) now:
About the book:
Experience the epic love story of OBSIDIAN (OBSIDIAN, OPAL, and ONYX in the eBook version) as told by its hero, Daemon Black…
I knew the moment Katy Swartz moved in next door, there was going to be trouble. Lots of it. And trouble's the last thing I need, since I'm not exactly from around here. My people arrived on Earth from Lux, a planet thirteen billion light years away. Plus, if there's one thing I know, it's that humans can't be trusted. We scare them. We can do things they only dream about, and honestly, we make them look weak as hell. 'Cuz they are.
But Kat is getting to me in ways no one else has, and I can't stop myself from wanting her—or wanting to use my powers to protect her. She makes me weak, and I'm the strongest of our kind, tasked with protecting us all. So this one simple girl…she can mean the end for us. Because the Luxen have an even bigger enemy—the Arum, and I need to stay on my game.
Falling for Katy—a human—won't just place her in danger. It could get us all killed, and that's one thing I'll never let happen…
Want to read more? Buy Oblivion (Lux, #1.5) now:
About Author