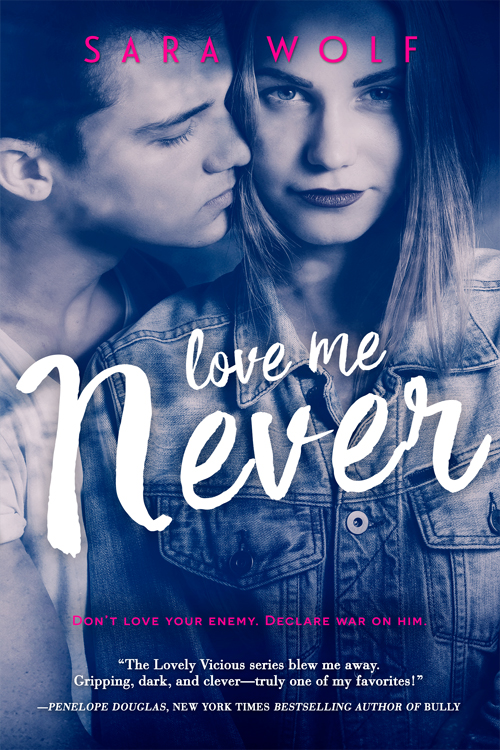 We are so excited to share these new releases today!
About the book:
Previously published as Lovely Vicious, this fully revised and updated edition is full of romance, intrigue, and laugh-out-loud moments.
Don't love your enemy. Declare war on him.
Seventeen-year-old Isis Blake hasn't fallen in love in three years, nine weeks, and five days, and after what happened last time, she intends to keep it that way. Since then she's lost eighty-five pounds, gotten four streaks of purple in her hair, and moved to Buttcrack-of-Nowhere, Ohio, to help her mom escape a bad relationship.
All the girls in her new school want one thing—Jack Hunter, the Ice Prince of East Summit High. Hot as an Armani ad, smart enough to get into Yale, and colder than the Arctic, Jack Hunter's never gone out with anyone. Sure, people have seen him downtown with beautiful women, but he's never given high school girls the time of day. Until Isis punches him in the face.
Jack's met his match. Suddenly everything is a game.
The goal: Make the other beg for mercy.
The game board: East Summit High.
The reward: Something neither of them expected.
Want to read more? Buy Love Me Never (Lovely Vicious, #1) now:

About the book:
Dan Garrett has become exactly what he hates—popular. Until recently, he was just another live-action role-playing nerd on the lowest rung of the social ladder. Cue a massive growth spurt and an uncanny skill at taking three-point shots in basketball and voilà…Mr. Popular. It's definitely weird.
And the biggest drawback? Going from high school zero to basketball hero cost Dan the secret girl of his dorky dreams.
A band geek with an eclectic fashion sense, Zelda Potts's "coolness" stat is about minus forty-two. Dan turning his back on her and the rest of nerd-dom was brutal enough, but when he humiliates her at school, Zelda decides it's time for a little revenge—dork style. Never mind that she used to have a crush on him. Never mind that her plan could backfire big time.
It's time to roll the dice…and hope like freakin' hell she doesn't lose her heart in the process.
Want to read more? Buy Romancing the Nerd (Nerd, #2) now:

Upcoming Book Signings & Events:
4/5: Release Day Blitz!
4/5: Ask Leah Rae Miller Anything during her Reddit.com/r/Books' AMA from 2-6pm EDT
About Author