Readers' Group Guide: Love Me Never (Lovely Vicious, #1) by Sara Wolf
If you haven't read Love Me Never yet, know that there may be a spoiler, or two, or several among the questions in the official Entangled TEEN Readers' Group Guide. If you have read it or plan to for either part of the  school curriculum or for a RL or online book club, then these questions will be a good way to start thinking about various aspects of the novel and will help develop a good discussion among students or book club participants.
Please let us know in the comments below if and how you used them!
 The novel is ultimately about the secrets each character is guarding. Isis, Jack, Wren, Avery, and even the principal, Mr. Evans, are motivated by their secrets. Discuss how the characters' secrets affect their behavior and the results of their choices.
Isis considers herself to be fat and ugly, although, from the other characters' points of view, she is not. Gradually, we discover why she feels this way. What was it that Nameless did to her? In what other ways was she affected by his cruelty?
It is revealed that Isis has lost a great deal of weight. On page 24, she describes briefly how she accomplished it. Did you accept her explanation of how she shed pounds? Can it really be that simple?
A poignant moment illuminating Isis's low self-esteem occurs when her stepmother sends her a lovely blouse and her mother tells her it "doesn't suit her." She stuffs it in her closet, stating, "The number one rule is don't try to be someone you're not." Do you agree? Why or why not?
Isis puts her emotionally fragile mother's needs ahead of her own, because she feels responsible for her mother's past abuse. She plans to stay at a local college instead of applying to better schools that would take her too far from home. Is this the right thing for her to do? Have you known teens who "parent" a parent?
Isis would prefer to forego college and spend a year in Europe, but instead plans on college because her parents expect it. Should young people go to college directly after high school just to please their parents?
What are your thoughts about Jack's job as an escort?
Jack and Wren sensitively articulate their feelings and those of other characters' (examples on pages 137, 162). How realistically are these teenage boys portrayed?
When Kayla complains that Wren is a nerd and that is why she doesn't have feelings for him, Isis discusses the "great dilemma of looks over personality." Which is more important? Are we all shallow, as Isis claims?
Isis believes that she can no longer feel love because of her deeply troubled past. She recognizes this ability in Kayla, however, and feels jealous (pages 210-211). Is there hope for Isis to ever allow herself to open up to someone? How do you see this happening?
Isis believes that boys don't have any willpower when it comes to relationships, except Wren, and he is "an outlier." Should teenage boys commit to one girl? Is it possible?
The author paints a less-than-pretty picture of high school parties. Do all teens party the way these characters did?
Jack has legions of girls infatuated with him. Does your school have a Jack Hunter? What makes a boy a "heartthrob"?
Jack also has a darker side, revealed dramatically when he protects Isis from Leo's attack. How might this impact his budding relationship with Isis?
What are your ideas about what might have happened to Sophia and each character's role in the incident?
In a cliffhanger ending, Isis meets Sophia. This book is the first in a trilogy. What are your predictions for Book Two?
Questions prepared by Nancy Cantor, Media Specialist, NSU University School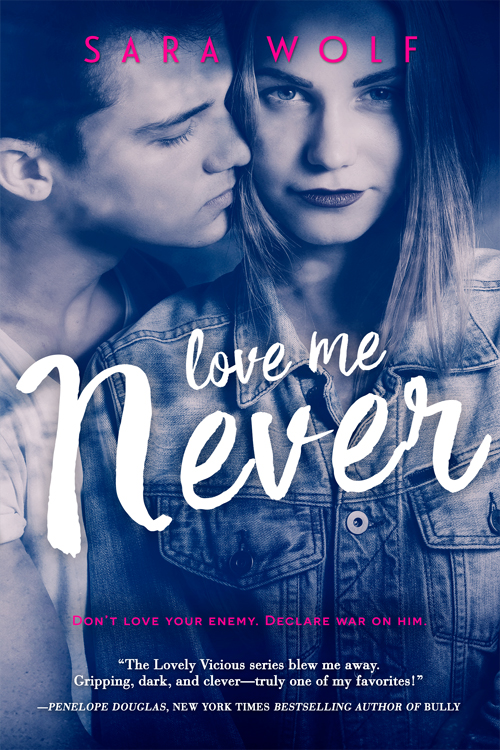 About Love Me Never (Lovely Vicious, #1):
Previously published as Lovely Vicious, this fully revised and updated edition is full of romance, intrigue, and laugh-out-loud moments.

Seventeen-year-old Isis Blake hasn't fallen in love in three years, nine weeks, and five days, and after what happened last time, she intends to keep it that way. Since then she's lost eighty-five pounds, gotten four streaks of purple in her hair, and moved to Buttcrack-of-Nowhere, Ohio, to help her mom escape a bad relationship.

All the girls in her new school want one thing—Jack Hunter, the Ice Prince of East Summit High. Hot as an Armani ad, smart enough to get into Yale, and colder than the Arctic, Jack Hunter's never gone out with anyone. Sure, people have seen him downtown with beautiful women, but he's never given high school girls the time of day. Until Isis punches him in the face.

Jack's met his match. Suddenly everything is a game.

The goal: Make the other beg for mercy.

The game board: East Summit High.

The reward: Something neither of them expected.
Want to read more? Buy Love Me Never (Lovely Vicious, #1) now:

About Author