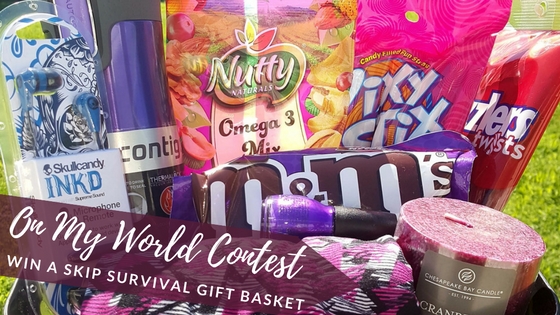 On My World Contest
For Jus Accardo, the author of Infinity and Omega, one of the best parts of writing the Infinity Division series was the infinite number of possibilities she had to work with. She loves animals–so there is a world overrun with critters. She loves chocolate–so there is a world full of chocolatey goodness. She loves—you see where we're going with this? Jus had the opportunity to plop the gang into pretty much any circumstance. Harsh worlds, quirky worlds, worlds made entirely of butter…
Okay. No butter.
So to celebrate the release of Omega, the second book in the  series, I'm doing a super fun giveaway!
The gang gets to see all kinds of things as they skip from world to world. New animals, weird food, unfamiliar customs… But since there are an infinite number of worlds out there, they're obviously missing out on some pretty cool things. That's where you guys come in.
Each day Jus will post a new prompt on social media (Be sure to follow me: Twitter, facebook, Instagram.) To enter, you simply have to snap and post a picture pertaining to the day's prompt and BE SURE to include the hashtags #onmyworld and #Omega. You can enter with two pictures a day and will get an entry for each form of social media you use. Post to twitter and Instagram? Two entries. If you miss a day, feel free to play catch up the next! This winner will be picked from the hashtags on Sunday August 13th.*
Today's prompt is FOOD. Show us what the food is like on your world–and remember to include the hashtags #onmyworld and #Omega hashtags!
(no hashtags, no entries ? )
What will I win, you ask?
Well, something that every world skipping traveler needs…
A Skip Survival Basket!
Lots of yummy goodies (Mixed nuts, Twizzlers, Pixie Stix, M&Ms–Noah would be lost without these)
A pair of Skullcandy earbuds (for those worlds where listening to your tunes isn't legal)
Candle (appropriately scented cranberry–one of Noah's faves)
A Contigo travel mug (for when you want to take your newfound fave beverage to the next world)
Nail Polish (purple, of course)
A pair of comfy leggings, perfect for skipping from place to place, or for snuggling in with your favorite read (LuLaRoe leggings, OS or TC, depending on winner's choice)
**Leggings pictured are the OS**
* Sorry, but this giveaway is open only to US and Canadian residents.