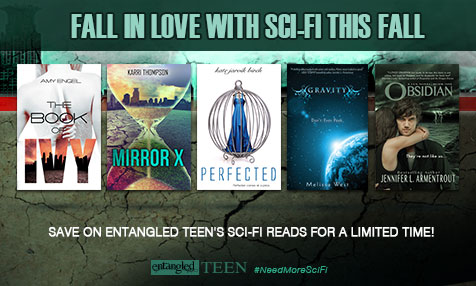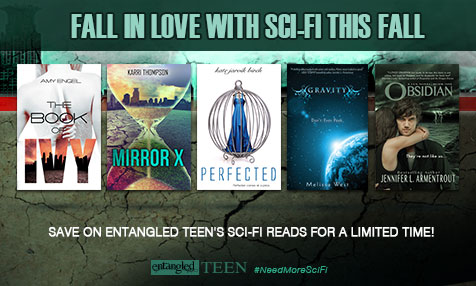 If you #NeedMoreSciFi this fall, Entangled TEEN has got you covered!
As you know, Entangled TEEN has a bunch of exciting new Sci-Fi and Fantasy books coming out between now and early January, so we thought, "What better way to celebrate than by showing off ALL the great Sci-Fi and Fantasy titles Entangled TEEN has to offer!"
With this concept in mind, we decided to put some of our favorite Sci-Fi backlist titles on sale at various points throughout the Fall. We're thrilled that, as the title of this post suggests, Kate Jarvik Birch's Perfected will be on sale for 99¢ from today until Sunday, November 1st.
For those who don't know, Perfected is the first book in a series that will be continuing on December 1, 2015 with Tarnished. The first book was released on July 1st, 2014 originally and has a concept that will have you cringing…in the best way. Here are some review quotes that Kate Jarvik Birch loves best for Perfected…and we tend to agree with her assessment:
This book held my attention until the very last page, at which point I was screaming for MORE. I want another book in this series. I want this novel on the big screens. -The Schwartz Reviews
I found myself gasping and holding my breath, crossing my fingers and sighing. Kate Jarvik Birch's writing is stunning and gorgeous and thoroughly transports you into the pages. -Michelle's Minions
I couldn't put this book down. It's sick and wonderful and everything in between. – Yohara Leon Gonzalez
Check
out t

his exc

erpt from Perfected to get a taste for why this novel is popular:
"Remember… You'll never be one of them," Miss Gellner said, repositioning each of us on our divans in the sitting room so our gowns draped elegantly around our crossed ankles.

She stepped back and gazed at the group of us, her face pinched and stern like always, but I spotted a tiny glimmer of pride behind her rheumy eyes. Twenty girls: lovely, demure, quiet. She was pleased with us, even if she wouldn't say it out loud.

Miss Gellner blinked, as if bringing herself back to the moment. "Things won't change once you leave here," she went on. "Simply because you'll be pampered and spoiled, your life's mission won't suddenly be any different. Remember that. Your sole purpose is to enrich the lives of your new owners."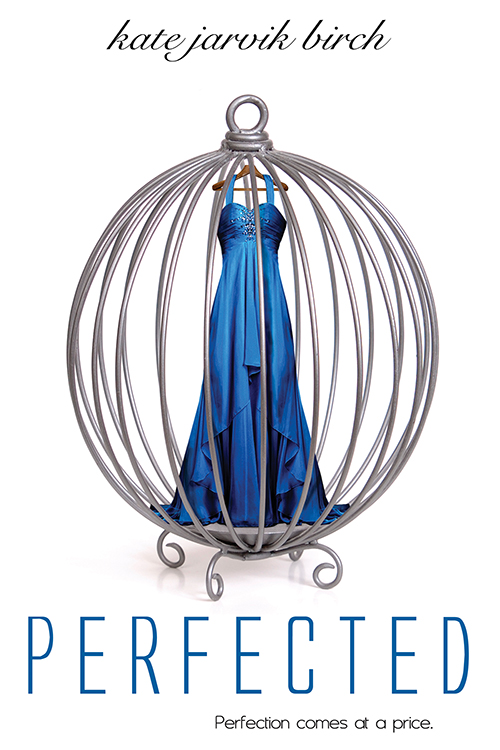 About Perfected:
Perfection comes at a price.

As soon as the government passed legislation allowing humans to be genetically engineered and sold as pets, the rich and powerful rushed to own beautiful girls like Ella. Trained from birth to be graceful, demure, and above all, perfect, these "family companions" enter their masters' homes prepared to live a life of idle luxury.

Ella is happy with her new role as playmate for a congressman's bubbly young daughter, but she doesn't expect Penn, the congressman's handsome and rebellious son. He's the only person who sees beyond the perfect exterior to the girl within. Falling for him goes against every rule she knows… and the freedom she finds with him is intoxicating.

But when Ella is kidnapped and thrust into the dark underworld lurking beneath her pampered life, she's faced with an unthinkable choice. Because the only thing more dangerous than staying with Penn's family is leaving… and if she's unsuccessful, she'll face a fate far worse than death.

For fans of Kiera Cass' Selection series and Lauren DeStefano's Chemical Garden series, Perfected is a chilling look at what it means to be human, and a stunning celebration of the power of love to set us free, wrapped in a glamorous—and dangerous—bow.
Get A Copy Today:
About Author