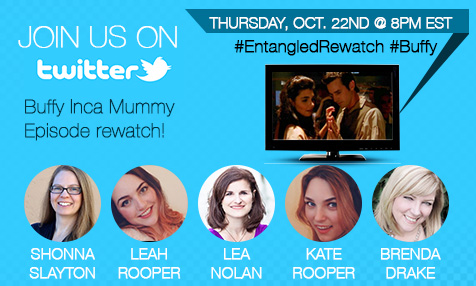 Join @EntangledTEEN and some of our Entangled TEEN & Crave authors as we rewatch Buffy the Vampire Slayer's Inca Mummy Episode live on Twitter!
If the next words out of your mouth are who, what, where, or when, then we completely understand. The Inca Mummy Halloween Episode, a.k.a Season 2, Episode 4, is a classic for a reason. It is jam packed with all the great dialog that Buffy fans are familiar with, amazing makeup or special effects (we don't know how they made the Mummy transform, but we know it was awesome), and Halloween costumes that probably won't win you – nor Xander or Willow – the prize at any parties you attend. If you're a long time Buffy fan, please join us on Thursday, October 22nd @ 8pm EST! And if you haven't seen Xander get the girl…err, the walking corpse, then you also really NEED to join us!
In either case, use the hashtags #EntangledRewatch and #Buffy to stay connected with @Entangled TEEN, Shonna Slayton, author of Cinderella's Shoes, Leah and Kate Rooper, authors of Jane Unwrapped, Lea Nolan, author of Illusion, and Brenda Drake, author of Touching Fate! You can also RSVP via the Event page on Facebook.
We'll meet in Sunnydale, wear some good…or really terrible Halloween costumes, and tweet out our fave quotes!
Who's ready?
Buffy streams on both Netflix and Amazon Prime. So queue it up and get ready for another adventure in the Hell Mouth!
If that sounds like fun, then be sure to check out the two other events we have scheduled for the next two weeks on Facebook and Twitter:
Swoony Treats Facebook Party: on Thursday, October 29th from 8 – 10 pm EST!
#NeedMoreSciFi Entangled TEEN Twitter Chat: on Wednesday, November 4th at 9pm EST!
About Author