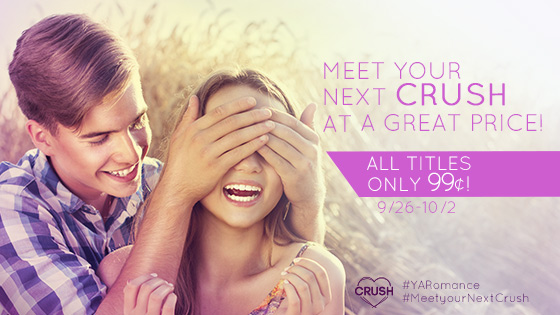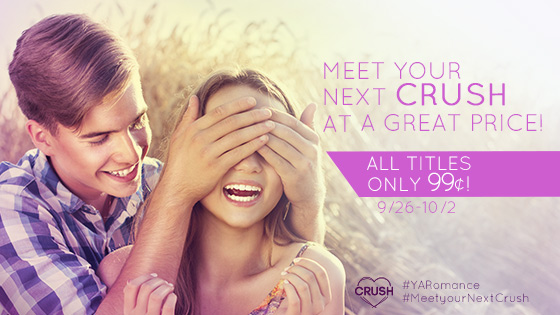 Don't Miss the Crush Flash Sale & Schedule of Events!
Did you know that between Monday, September 26, 2016 and Sunday, October 2, 2016, all of the books on Entangled Teen's Crush imprint will be on sale for the sweet price of $0.99? For those of you who don't already know, Crush, one of Entangled's first teen category romance imprints, is all about engaging, irresistible first-love stories set during the characters' teen years. Crush specializes in heart-stopping feelings and never-ending drama, ranging from funny to emotional, flirty to dark. Whether set in the halls of a high school, at a beach resort, or studying abroad, and whether it features a girl falling for her brother's best friend next door, a forbidden summer camp romance, or a nerd pretending to date the star quarterback, our teen category romances will leave you grinning…and in love with your next book crush!
As part of the Crush Flash Sale, we have a week of events scheduled that we can't wait for you to check out:
September 26, 2016:
Jodie Andrefski, author of The Girlfriend Request: "Top 5 Reasons I love to write YA Romance"
September 27, 2016:
Lisa Brown Roberts, author of Playing the Player and Resisting the Rebel: "Never Apologize for Loving Romance!"
Sara Hantz, author of Falling for the Wrong Guy: "5 Reasons Why I Love Writing YA Contemporary Romance"
Entangled TEEN & Crush Authors Live Tweet Sixteen Candles @ 9pm EDT (Psst…the movie staring Molly Ringwald is available to stream via Netflix)
September 28, 2016:
Ophelia London, USA Today bestselling author of Aimee and the Heartthrob: Blog post topic TBD
Chris Cannon, author of Blackmail Boyfriend and The Boyfriend Bet: "Top 5 Reasons I Write Contemp YA Romance"
Monica Murphy, NYT & USA Today Bestselling author of Daring the Bad Boy: Blog post topic TBD
September 29, 2016:
Kendra C. Highley, author of Finding Perfect & Defying Gravity: "Why I Love YA Contemporary Romance!"
September 30, 2016:
Heidi R. Kling, author of Not Okay, Cupid: "Top 5 Reasons I Love Writing YA Contemporary Romance!"
Erin Fletcher, author of Pieces of You and Me and the forthcoming book All Laced Up: "Top 5 Reasons I Love Writing Contemporary YA Romance!"
Check back here every day to make sure you don't miss a single guest post…and some other fun surprises, including entering to win the following giveaway!
About Author