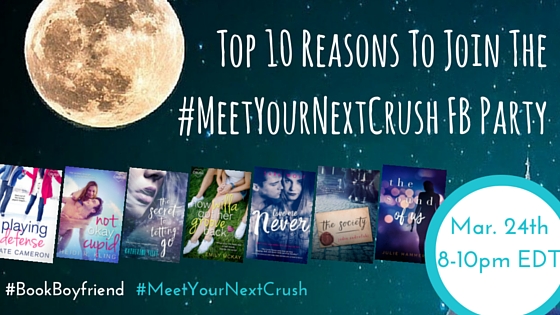 Top 10 Reasons to Join the #MeetYourNextCrush Facebook Party!
We know that there are a lot of things you could be doing this Thursday evening. Whether your typical Thursday night includes heading to the gym, vegging out in front of the TV, binging your new, fave TV series, or reading that new YA novel you just haven't been able to put down, we thought we'd try to convince you to skip out on those activities to chat with seven of the new and forthcoming Contemporary YA authors on our Entangled TEEN and Crush imprints, including: Cate Cameron, Heidi R. Kling, Katherine Fleet, Emily McKay, Sara Wolf, Jodie Andrefski, and Julie Hammerle.
So, in an effort to persuade you, here are the Top 10 Reasons to Join the #MeetYourNextCrush Facebook Party on March 24, 2016 from 8-10 pm EDT:
10. Because you can binge something on Netflix any night: If you have spent most of the nights this week tuned into Netflix, then seriously, take a break from it on March 24th…at least between your usual prime viewing hours of 8-10 pm EDT (5-7pm PDT). Your TV and movie queue will still be there the next day, but these authors won't be.
9. Because you NEED a hockey-playing book boyfriend for your collection: Ask anyone who has read Playing Defense (Corrigan Falls Raiders, #2) by Cate Cameron, and they will tell you that if anyone deserves the hockey-playing book boyfriend job, then Chris Winslow would be it. He's easy going and the class clown, but there's something about him that will make you swoon like you wouldn't believe possible.
8. Because Fake Relationships + High School Dances = Contemporary YA Perfection: Do the YA novel math with the first installment in Heidi R. Kling's High School Heartbreakers series, and Not Okay, Cupid is bound to come out on top with the cute banter between Felix and Hazel.
7.  Because love interests with dark secrets make you swoon: If you haven't read Katherine Fleet's The Secret to Letting Go yet, then you're definitely missing out on all the swoony moments, heroic saves, dark secrets, mystery, and excitement of learning to trust your first love. Told from the alternating perspectives of Daniel and Clover, this book is a hidden gem if you ask us!
6. Because YA novels, P&P and/or original web series are your thing: There's a reason that we fell in love with How Willa Got Her Groove Back, Emily McKay's first installment in the 12-book Creative HeArts series. Or several. It started with the opening line that spoke to our love of all things Pride & Prejudice, continued with Willa's book nerd status, and was solidified with the allusions to and parody of some of our fave original web series, like The Lizzie Bennet Diaries.
5. Because your TBR and/or pre-order list can NEVER be too long: If you're as much of a book nerd as we are…and we think you are, then you agree with this statement on principle. For that reason, we won't apologize in advance for making it impossible not to add at least 1 or 2, if not all 7 featured authors to your TBR and/or shopping cart right away…whether or not they're already out in the world yet.
4. Because Jack Hunter is the NEW book boyfriend you'll love to hate: If enemies to lovers romances filled with hilarious, LOL moments, and the sharpest dialogue you'll ever see in a YA series delights you, then you'll fall in love with Jack Hunter, the Ice Prince of East Summit High himself, guaranteed.
3. Because You LIVE for Secret Societies & Sabotage: In Jodie Andrefski's forthcoming novel, The Society, Samantha Evans knows she will never get an invite to Trinity Academy's best kept secret – The Society. It's a secret society in which only the elite of the elite can ever hope to get in, so after years of relentless bullying from the school queen bee, Sam takes matters into her own hands, using her hacking expertise she'll sabatoge it with one fake invitation at a time.  
2. Because you're a Fangirl at heart & are seriously in LOVE with Pitch Perfect: Driven by a social-media-addicted, nerdy heroine, there's a reason that Julie Hammerle's debut YA novel has been called a charming, thought-provoking coming-of-age story that is Pitch Perfect at opera camp. Need we say more?
And finally, the moment you've all been waiting for….the top reason for joining us on March 24th from 8-10 pm EDT for the #MeetYourNextCrush Facebook Party is:
[Insert drumroll please]
1. Because chatting with YA authors & winning prizes is so much fun!: So this may the most obvious inclusion in this top 10 list, but that doesn't make it any less true. You love books, you love talking with authors, and you seriously love the idea of winning some great prizes from one or more of these seven Entangled TEEN and Crush authors, so please, do yourself a favor and join in the fun!
Join us on March 24th from 8-10 pm EDT for the #MeetYourNextCrush Facebook Party!
About Author