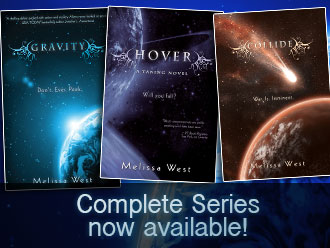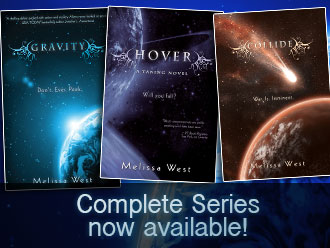 Pick up the complete set today!
First came Gravity which readers raved about…
"A thrilling debut packed with action and mystery. Aliens never looked so good."
-USA TODAY Bestselling author Jennifer L. Armentrout
"GRAVITY is a nonstop action thrill ride set in a richly imagined sci-fi version of earth, featuring a bold heroine who knows how to fight, just not who she should be fighting for. Start reading and you won't. Ever. Stop."
–Jennifer Bosworth, author of Struck (FSG/Macmillan)
"I couldn't stop reading!"
– Lovin' Los Libros
Then came Hover which also blew readers away…
"It completely stunned me and blew me away so much I think I may have landed on another planet."
~Kayleigh, K-Books
"I LOVED this. So much that I want to re-read it immediately."
~Richa, City of Books
And now in the in the heart-stopping conclusion, Collide, loyalties are tested, fear turns to courage and war is imminent.
Get Your Copies Today!