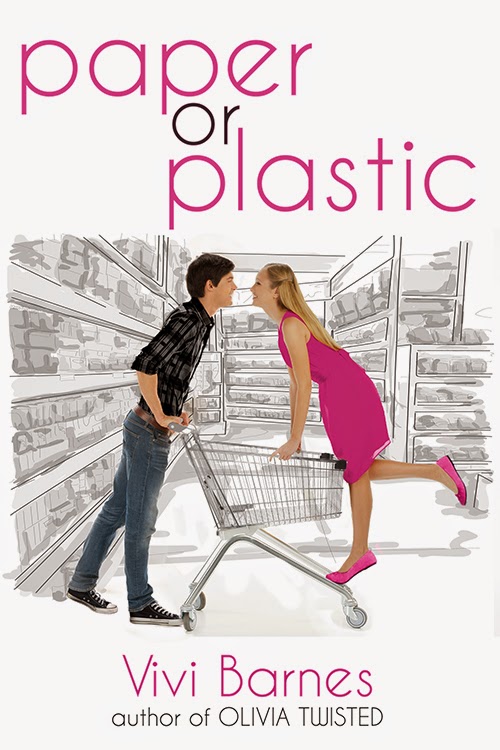 We can hardly contain our excitement! We have the official adorable trailer for Paper or Plastic by Vivi Barnes.
Paper or Plastic
by Vivi Barnes
Release Date: 02/03/15
Welcome to SmartMart, where crime pays minimum wage…
Busted. Alexis Dubois just got caught shoplifting a cheap tube of lipstick at the local SmartMart. She doesn't know what's worse—disappointing her overbearing beauty-pageant-obsessed mother for the zillionth time…or her punishment. Because Lex is forced to spend her summer working at the store, where the only things stranger than the staff are the customers.
Now Lex is stuck in the bizarro world of big-box retail. Coupon cutters, jerk customers, and learning exactly what a "Code B" really is (ew). And for added awkwardness, her new supervisor is the totally cute—and adorably geeky—Noah Grayson. Trying to balance her out-of-control mother, her pitching position on the softball team, and her secret crush on the school geek makes for one crazy summer. But ultimately, could the worst job in the world be the best thing that ever happened to her?
Praise for Olivia Twisted: 
"One of the most interesting premises of any contemporary YA book this year. Moreover, its parallels to the literary powerhouse Oliver Twist are brilliant. With Barnes' near-flawless writing, excellent character development and a smart storyline that readers will devour, this book deserves its RT Top Pick." -RT Book Reviews Top Pick
"Barnes has taken a story known to the ages and modernized it for the younger generation.  It's a glorious retelling of a magnificent story that opens up the world for a whole new group." -The Ledger Independent
About Author