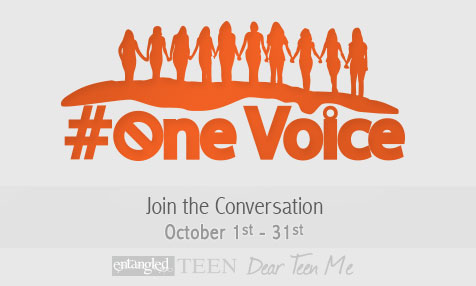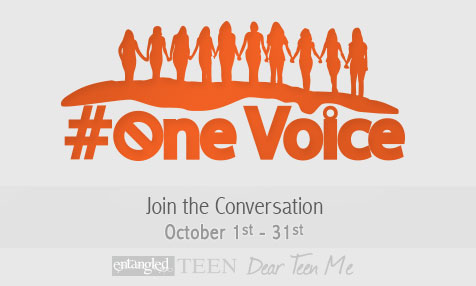 October is National Bullying Awareness Month!
Bullying is one of the biggest hurdles teens face today. Since the advent of social media, bullying has taken on a bold and more vicious face. This October Entangled Teen, is partnering with Dear Teen Me in launching a national campaign to empower teens to take a stand against bullying.  
Some Facts About Bullying
One out of three students is bullied
It increases dropout rates
Cause low self-esteem
Lead to depression
Lead to self-harm and suicidal ideation
We hope you will join us throughout October as YA authors including Ellen Hopkins, Ann Aguirre, Rachel Caine, Cheryl Rainfield, Carrie Jones, Alyssa Day (writing as Lucy Connors), Trinity Faegen, Cole Gibsen, Julie Cross and many more share their stories about bullying.  See the full line up below.
Pledge to take a stand against bullying on Twitter, Tumblr or any other platform using the hashtags #OneVoice and #YouAreNotAlone.
Entangled Teen and Dear Teen Me take our pledge today:
We pledge to take a stand against bullying each and every day. #OneVoice #YouAreNotAlone
To find more information about what you can do to support bullying awareness visit PACER's National Bullying Prevention Center's website.
October 1 – Cole Gibsen
October 2 – Ellen Hopkins
October 3 – Ann Aguirre
October 6 – Anna Banks
October 7 – Shannon Lee Alexander
October 8 – Julie Cross
October 9- Alyssa Day writing as Lucy Connors
October 10 – Jus Accardo
October 11 – D.R. Rosensteel
October 13 – Rebekah Purdy
October 14 – Mary Lindsey
October 15 – Tracy Clark
October 16 – Chantele Sedgwick
October 17 – Rachel Caine
October 17 – Francesca Zappia
October 18 – Lisa Brown Roberts
October 19 – Victoria Scott
October 20 – Trinity Faegen
October 21 – Tiffany Truitt
October 22 – Tara Fuller
October 23 – Jennifer Bosworth
October 24 – Cheryl Rainfield
October 25 – Chloe Jacobs
October 26 – Brigid Kemmerer
October 27 – Carrie Jones
October 28 – Sarah Bomley
October 29 – Sarah Darer Littman
October 30 – Tonya Kuper
October 31 – Nikki Urang
About Author