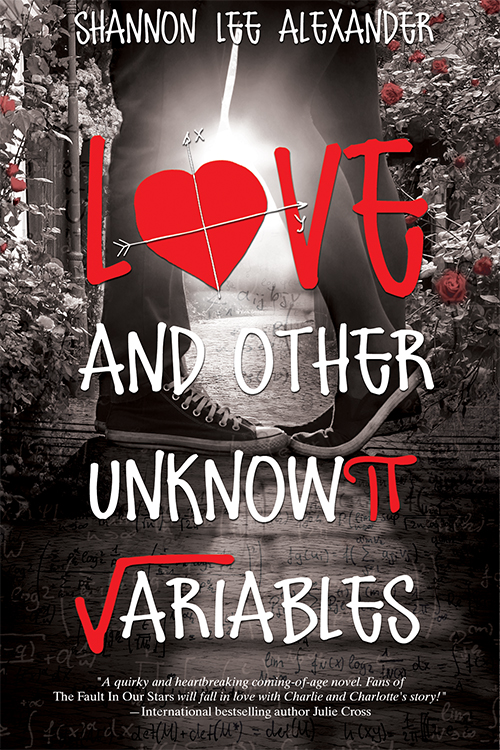 Writing Charlie Hanson was an interesting challenge. Unlike Charlie, math doesn't make my heart go pitter-patter. Math makes my heart drop into my stomach. It scares me more than clowns. Well, almost more than clowns.
But Charlie showed up in my mind fully formed, and no matter how I tried to convince him that he should be a poet or a musician, he'd shake his head and point to a page in this ragged, spiral bound notebook full of monster math problems.
It became clear, that while I could write the story in a way that would help Charlie begin to see the beauty of literature, I'd only accomplish that if I started seeing the beauty in math. We'd have to compromise, Charlie and me, if we were going to tell this story, properly.
What I discovered is that despite our differences, Charlie and me do have a few things in common. To make Charlie proud, I put together this Venn diagram to illustrate.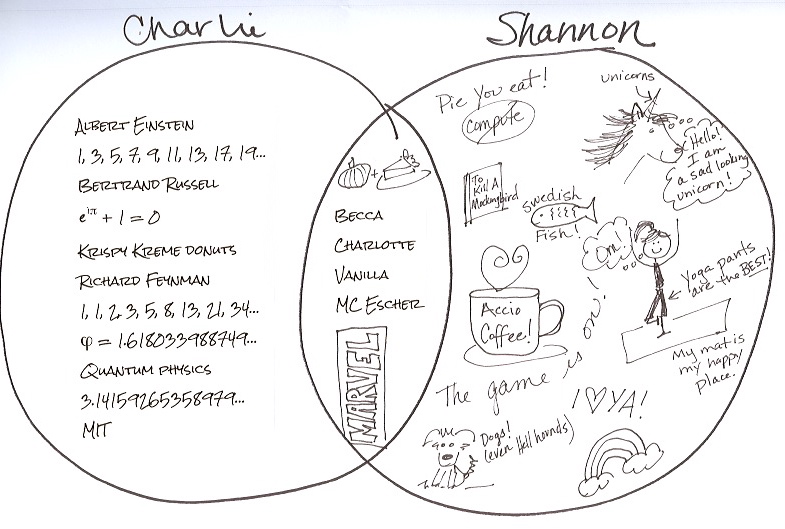 I'd love to see how you compare to your favorite character. Make a chart and share it here on the blog, Twitter, or Instagram. You can be as creative with the charts as you want. I can't wait to see what you come up with! Be sure to tag us on Twitter @shanlalexander or on Instagram @wanderthewords so we can see them!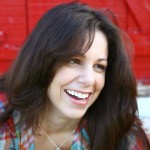 Shannon Lee Alexander is a wife and mother (of two kids and one yellow terrier named Harriet Potter). She is passionate about coffee, books, and cancer research. Math makes her break out in a sweat. Love and Other Unknown Variables is her debut novel. She currently lives in Indianapolis with her family.
Find Shannon here:   @shanlalexander     Facebook      Website     Pinterest     Good Reads     Tumblr     Instagram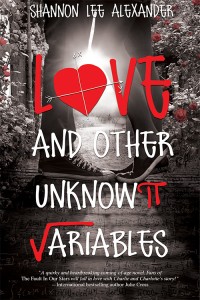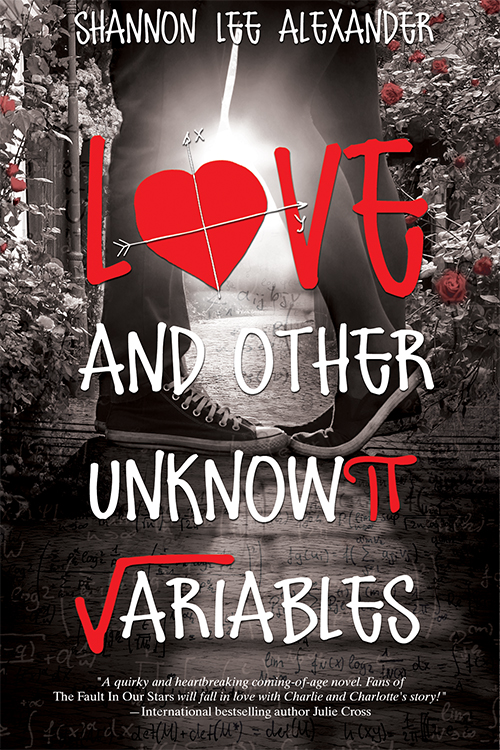 Charlie Hanson has a clear vision of his future. A senior at Brighton School of Mathematics and Science, he knows he'll graduate, go to MIT, and inevitably discover solutions to the universe's greatest unanswered questions. He's that smart. But Charlie's future blurs the moment he reaches out to touch the tattoo on a beautiful girl's neck.
The future has never seemed very kind to Charlotte Finch, so she's counting on the present. She's not impressed by the strange boy at the donut shop—until she learns he's a student at Brighton where her sister has just taken a job as the English teacher. With her encouragement, Charlie orchestrates the most effective prank campaign in Brighton history. But, in doing so, he puts his own future in jeopardy.
By the time he learns she's ill—and that the pranks were a way to distract Ms. Finch from Charlotte's illness—Charlotte's gravitational pull is too great to overcome. Soon he must choose between the familiar formulas he's always relied on or the girl he's falling for (at far more than 32 feet per second squared).
Pre-order your copy today!
Don't miss the final teaser for Love and Other Unknown Variables HERE!
About Author