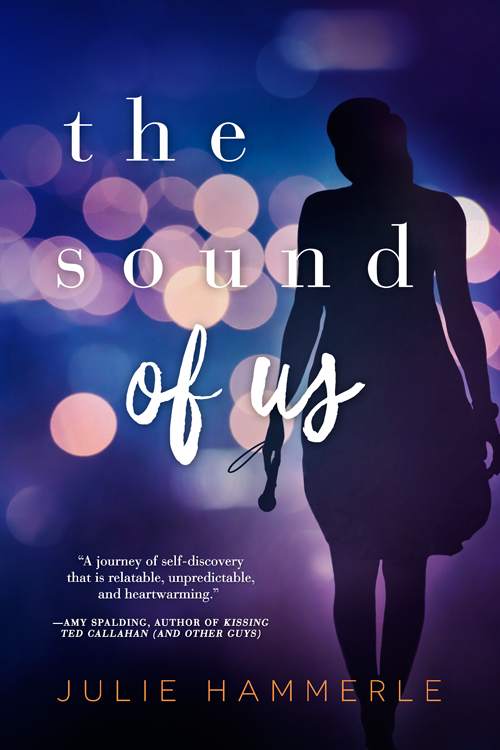 We are so excited to share this new release today!
About the book:
Kiki Nichols might not survive music camp.
She's put her TV-loving, nerdy self aside for one summer to prove she's got what it takes: she can be cool enough to make friends, she can earn that music scholarship, and she can get into Krause University's music program.
Except camp has rigid conduct rules—which means her thrilling late-night jam session with the hot drummer can't happen again, even though they love all the same TV shows, and fifteen minutes making music with him meant more than every aria she's ever sung.
But when someone starts snitching on rule breakers and getting them kicked out, music camp turns into survival of the fittest. If Kiki's going to get that scholarship, her chance to make true friends—and her chance with the drummer guy—might cost her the future she wants more than anything.
Buy The Sound of Us by Julie Hammerle now:

Upcoming Book Signings & Events:
5/30-6/30: Dubsmash Your Heart Out Contest (US Only)
6/6-6/17: The Sound of Us Body Positivity Blog Series
6/7: Ask Julie Hammerle Anything during her Reddit.com/r/Books' AMA from 5-9pm EDT
6/10: B&N B-Fest in Chicago, IN from 6-8pm CDT
6/11: B&N B-Fest at the Skokie store / Village Crossing from 1-3pm CDT
6/12: Featured on WGN Radio with Dave Plier
6/12: Live Tweet of High School Musical at 6pm EDT (Available on the Disney Channel or Netflix)
6/16: Book Launch at Book Mamas in Indianapolis, IN from 5:30-6:30pm CDT
About Author