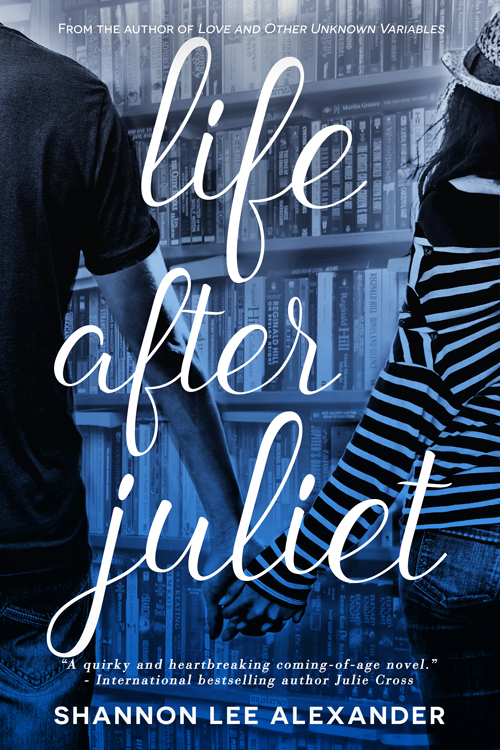 We are so excited to share this new release today!
About the book:
Becca Hanson was never able to make sense of the real world. When her best friend Charlotte died, she gave up on it altogether. Fortunately, Becca can count on her books to escape—to other times, other places, other people…
Until she meets Max Herrera. He's experienced loss, too, and his gorgeous, dark eyes see Becca the way no one else in school can.
As it turns out, kissing is a lot better in real life than on a page. But love and life are a lot more complicated in the real world…and happy endings aren't always guaranteed.
The companion novel to Love and Other Unknown Variables is an exploration of loss and regret, of kissing and love, and most importantly, a celebration of hope and discovering a life worth living again.
Buy Life After Juliet, the companion novel to Love and Other Unknown Variables by Shannon Lee Alexander now:

Enter the Blog Tour Giveaway (INT):
Upcoming Book Signings & Events:
7/1-7/31: Life After Juliet Photo Challenge on Instagram
7/7 from 6:30 to 7:30 pm: Life After Juliet Book Release Party at the Hamilton East Public Library – Fisher's Library Branch in the Teen Zone
7/9 from 1 to 2:30 pm: Life After Juliet Cast Party at Kid's Ink Booksellers in Indianapolis, IN
7/22: Featured Author Crush Friday Interview on Glitter Mag Rocks
Later in July: Featured on USA Today HEA Blog
8/4: Live radio interview with Tabatha Pope on Authors on the Web's Show, The Librarian @ 9 pm EDT
Later in October: Franklin County High School Workshop & Author Event (October, 2016 – Date TBD)
About Author