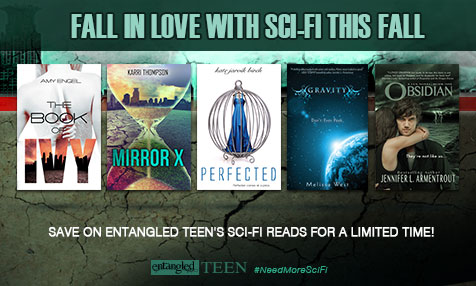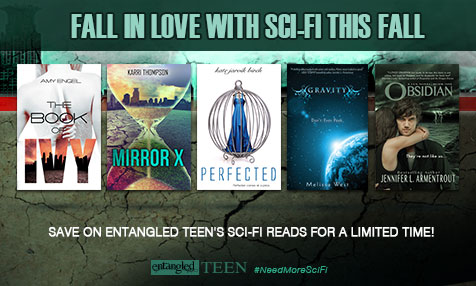 If you #NeedMoreSciFi this fall, Entangled TEEN has got you covered!
As you know, Entangled TEEN has a bunch of exciting new Sci-Fi and Fantasy books coming out between now and early January, so we thought, "What better way to celebrate than by showing off ALL the great Sci-Fi and Fantasy titles Entangled TEEN has to offer!"
With this concept in mind, we decided to put some of our favorite Sci-Fi backlist titles on sale at various points throughout the Fall. We're thrilled that, as the title of this post suggests, Jennifer L. Armentrout's Obsidian, the first book in the Lux series, will be FREE from now until Sunday, November 29th!
For those who don't know, Obsidian is the first book in a series that will be continuing from Daemon's POV on December 1, 2015 with Oblivion. The first book was released on May 8, 2012 by Entangled TEEN and has been described as very addictive.
Want someone else's opinion on the book and series? Here are some review quotes about Obsidian to convince you that you ought to pick it up immediately:
"To me, Obsidian was absolutely PHENOMENAL! A book I wish I could just slip into and get lost for the rest of my life – a book hasn't made me feel like that since Harry Potter first came out. OBSIDIAN IS A MUST READ AND A MUST REREAD!" -Kelsey Ketch, author of Daughter of Isis
"It's hard to believe it's taken me this long to pick up Obsidian! But boy oh boy, am I glad I did!!! Perfect for YA fantasy, sci-fi, paranormal romance fans! <3 If you haven't started this series, you're way over do [sic]." – Liza Wiemer, author of Hello?
"Aliens, hot aliens? DAEMON BLACK???? YES PLEASE! Loved this book, read it in 2012 but decided to come back and write a review for it. This is actually the book that made me start book blogging!" – Sasha Alsberg, abookutopia
"Sweet. Baby. Jesus. Picked this book up at 1 AM and read it straight through until 6 AM. A funny, entertaining, and very addicting read. (I'm totally exhausted after staying up late to finish this, but I ain't even mad.)" – Kat O'Keefe, katytastic
"I had so much fun reading this[.]" Christine Riccio, polandbananasbooks
"The romance was HOT AS HELL, I fell hook, line and sinker for Daemon Black and literally swooned at everything that came out of his mouth all the while wishing I could punch his face! This is exactly the romance I love, the fighting, the tension, the will they won't they? So much bloody angst! I devoured this book in two sittings, as I just needed to see what would happen next." – Cody, Literary-ly Obsessed
"Katy is the kind of snarky female character I like. Who knew aliens could be so hot? What I loved the most-Daemon. What drove me crazy-Daemon. I wanted to reach through the pages and smack him and then kiss him. =)" – Colleen Houck, author of The Tigers Curse Saga and Reawakened
"Take some really hot, sizzling character chemistry, two stubborn love interests who know how to push each other's buttons, and add in some awesome out of this world characters and you've got the makings for one fabulously written story." – Katie, Mundie Moms
Clearly, authors, bloggers, and vloggers agree – if you haven't read Obsidian yet, then you should make it your mission to do so. Very soon.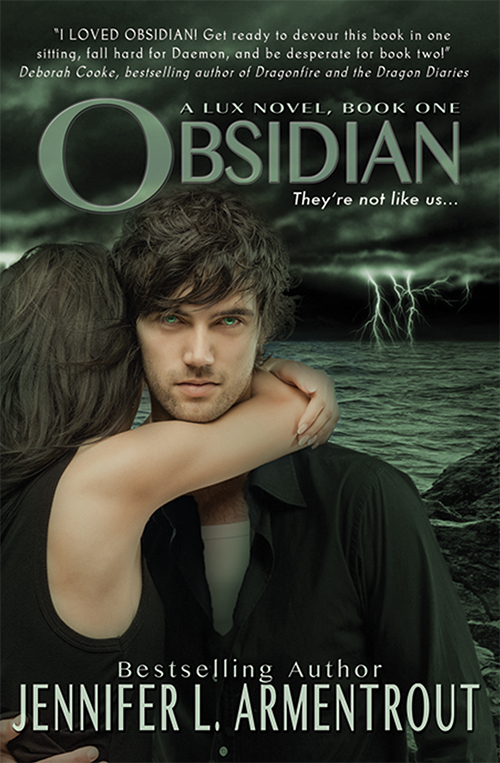 About Obsidian:
Starting over sucks.

When we moved to West Virginia right before my senior year, I'd pretty much resigned myself to thick accents, dodgy internet access, and a whole lot of boring… until I spotted my hot neighbor, with his looming height and eerie green eyes. Things were looking up.

And then he opened his mouth.

Daemon is infuriating. Arrogant. Stab-worthy. We do not get along. At all. But when a stranger attacks me and Daemon literally freezes time with a wave of his hand, well, something… unexpected happens.

The hot alien living next door marks me.

You heard me. Alien. Turns out Daemon and his sister have a galaxy of enemies wanting to steal their abilities, and Daemon's touch has me lit up like the Vegas Strip. The only way I'm getting out of this alive is by sticking close to Daemon until my alien mojo fades.

If I don't kill him first, that is.
Get A Copy Today:
About Author