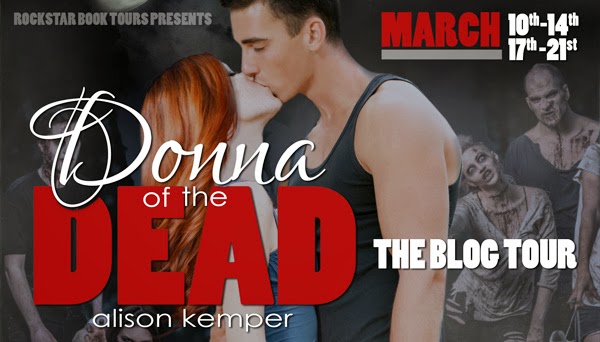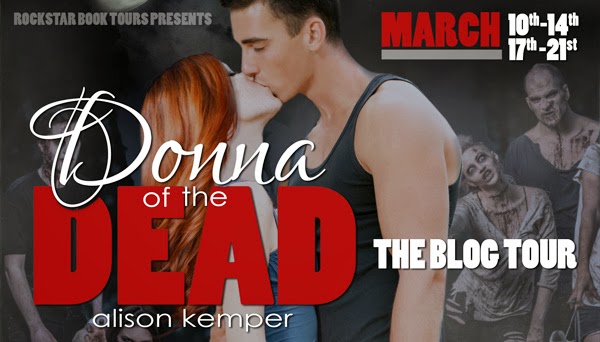 We are excited to announce the Donna of the Dead blog tour is kicking off today courtesy of Rockstar Book Tours!
Follow along the tour for excerpts, guest posts, interviews and more plus enter to win 15 Zombie Swag Bags that include $5 Amazon card, Donna of the Dead mints (don't get caught with zombie breath) and exploding eye gumballs (they squirt red goo when you bite into them, but are surprisingly delicious) so be sure to stop by for your chance to win ooh and they're open to International folks!
Tour Schedule
 Week One
Week Two
About Donna of the Dead
Donna Pierce might hear voices, but that doesn't mean she's crazy. Probably.
The voices do serve their purpose, though—whenever Donna hears them, she knows she's in danger. So when they start yelling at the top of their proverbial lungs, it's no surprise she and her best friend, Deke, end up narrowly escaping a zombie horde. Alone without their families, they take refuge at their high school with the super-helpful nerds, the bossy head cheerleader, and—best of all?—Liam, hottie extraordinaire and Donna's long-time crush. When Liam is around, it's easy to forget about the moaning zombies, her dad's plight to reach them, and how weird Deke is suddenly acting toward her.
But as the teens' numbers dwindle and their escape plans fall apart, Donna has to listen to the secrets those voices in her head have been hiding. It seems not all the zombies are shuffling idiots, and the half-undead aren't really down with kids like Donna…
Find it On:
About Author