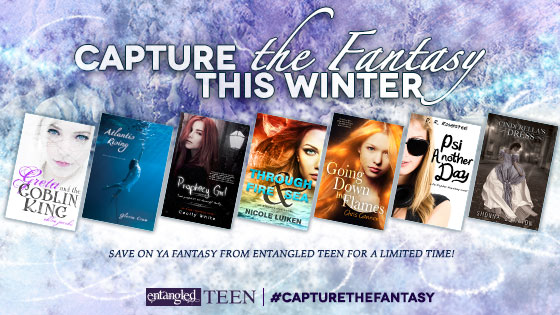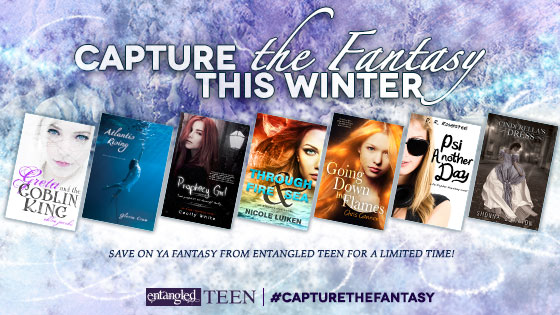 Capture The Fantasy this Winter with Entangled TEEN!
Over the next several months, Entangled TEEN has a bunch of brand new fantasy novels releasing on both our print and digital first lines, so we thought that the best way to celebrate these new books was to offer a series of exclusive eBook sales for a short period of time.
From March 14th to March 27th, Psi Another Day, the first book in the Psi Fighter Academy Series by D.R. Rosensteel is on sale for $0.99!
Want someone else's opinion on the book and series? Here are some review quotes about Psi Another Day to convince you that you ought to pick it up immediately in preparation for Live and Let Psi, which releases in eBook format on July 11, 2016:
"I freaking love this book! I'm only on page 36 because I have to stop cause I keep laughing so much. Were you a smart ass 16 year old girl in another life, LOL? Rinnie is my new favorite smart ass, can't wait to get to her bad ass side, I know it's coming. Dodgeball, an evil cult activity? HILARIOUS!" – Lela Jones
"Once I picked the book up I couldn't stop reading it! The characters are easy to connect with. Loved the twists and turns, it created a great mental movie!" – Heather Braham, Working Mom
"*applauds*
This book exceeded my expectations! It had a serious plot, but a lighthearted edge because there was one thing this author NAILED. It's HUMOR." – Rachel's Book Reviews
Check out this short, funny teaser from D.R. Rosensteel's Psi Another Day:
"Stu-dents," she said finally in a staccato voice. She waited until the auditorium quieted. "I have good news for you, and I have news that is less than satisfactory."

"What's the good news, Old Bag?" a voice from the back shouted. The auditorium echoed with laughter at the nasty nickname.

"For me, Mr. Rubric," she said calmly, "good news would be a relaxing breakfast of sausage, eggs, and a honey-covered biscuit, eaten after the joyful discovery that my milk carton had your picture on it."

Direct hit. I gave it a ten.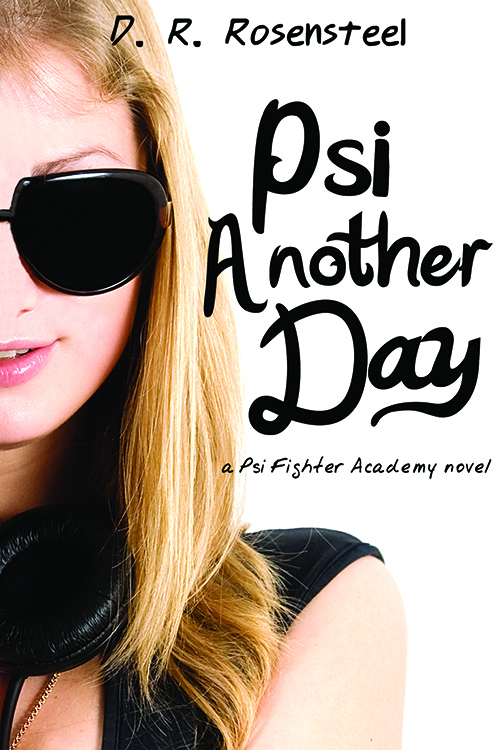 About Psi Another Day (Psi Fighter Academy, #1):
THERE'S A NEW SUPERHERO IN TOWN.

By day, I'm just another high school girl who likes lip gloss. But by night I'm a Psi Fighter—a secret guardian with a decade of training in the Mental Arts. And I'm about to test those skills in my first battle against evil.

BAD GUYS BEWARE.

When I was six, the Walpurgis Knights, our deadliest enemy, murdered my parents. The Psi Fighters put me into hiding, and all traces of my existence evaporated. Then I went through the most accelerated Psi Fighter training possible. And now I go to your school.

'CAUSE I WILL TAKE YOU OUT.

Unfortunately, so do the bad guys. My parents' killer has sent his apprentice to infiltrate the school to find me. And everyone is a potential suspect, even irresistible new kid, Egon, and my old nemesis-turned-nice-guy, Mason. Fingers crossed I find the Knight before he finds me…
Want to Read More? Get a Copy of Psi Another Day Today:

About Author