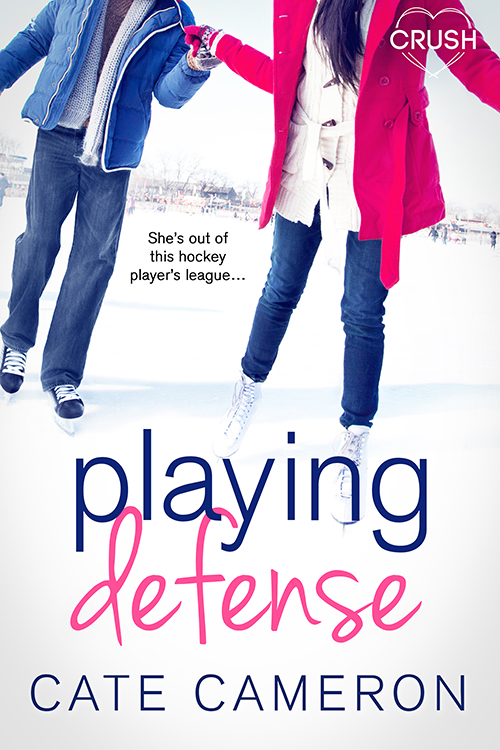 We are so excited to share this new release today!
About the book:
Disclaimer: This Entangled Teen Crush book contains adult language, swoon-worthy kisses, and sexy hockey players. It may cause you to watch a hockey game…or ten.
Sixteen-year-old Claudia Waring has never kissed a boy. Never been popular. Never been to a hockey game. All that's about to change. Assigned to tutor Chris Winslow, a prank-loving, gorgeous hockey player, Claudia's perfectly planned life immediately veers off course. And she kind of likes it. But as fun as Chris is, she knows she'll never fit in his world.
After his latest prank lands him in hot water, Chris has to get serious about school or lose hockey. Not an easy thing for someone as carefree as the defenseman. The biggest problem, though, is how much he wants to help his cute, buttoned-up tutor loosen up a little. But while confidence has never been a problem for him, around Claudia, Chris is all nerves. Why would a girl as smart as her ever fall for a jock like him?
Want to read more? Buy Playing Defense (Corrigan Falls Raiders, #2) now:

OTHER BOOK(s) IN THE SERIES:
Disclaimer: This Entangled Teen Crush book contains adult language, underage drinking, sexual situations, and crazy squirrels. It may cause you to become a fan of hockey – or at least hot hockey players.

The hometown hockey hero won't know what hit him…

Karen Webber is in small-town hell. After her mother's death, she moved to Corrigan Falls to live with strangers—her dad and his perfect, shiny new family—and there doesn't seem to be room for a city girl with a chip on her shoulder. The only person who makes her feel like a real human being is Tyler MacDonald.

But Karen isn't interested in starting something with a player. And that's all she keeps hearing about Tyler.

Corrigan Falls is a hockey town, and Tyler's the star player. But the viselike pressure from his father and his agent are sending him dangerously close to the edge. All people see is hockey—except Karen. Now they've managed to find something in each other that they both desperately need. And for the first time, Tyler is playing for keeps…

About Author