The final book in the Anastasia Phoenix series is coming March 4th, 2019! You don't want to miss this thrilling series that readers have been raving about.
For a limited time only you can pick up books 1 and 2 in the series for a steal of a deal.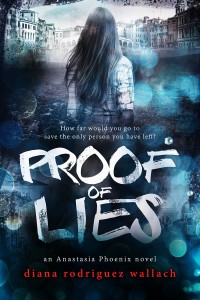 Some secrets are best kept hidden…
Anastasia Phoenix has always been the odd girl out, whether moving from city to international city with her scientist parents or being the black belt who speaks four languages.
And most definitely as the orphan whose sister is missing, presumed dead.
She's the only one who believes Keira is still alive, and when new evidence surfaces, Anastasia sets out to follow the trail—and lands in the middle of a massive conspiracy. Now she isn't sure who she can trust. At her side is Marcus, the bad boy with a sexy accent who's as secretive as she is. He may have followed her to Rome to help, but something about him seems too good to be true.
Nothing is as it appears, and when everything she's ever known is revealed to be a lie, Anastasia has to believe in one impossibility.
She will find her sister.
On sale for just 99¢!
What do you do when you learn your entire childhood was a lie?
Reeling from the truths uncovered while searching for her sister in Italy, Anastasia Phoenix is ready to call it quits with spies. The only way to stop being a pawn in their game is to remove herself from the board. But before she can leave her parents' crimes behind her, tragedy strikes. No one is safe, not while Department D still exists.
Now, with help from her friends, Anastasia embarks on a dangerous plan to bring down an entire criminal empire. From a fire-filled festival in England to a lavish wedding in Rio de Janeiro, Anastasia is determined to confront the enemies who want to destroy her family. But even Marcus, the handsome bad boy who's been there for her at every step, is connected to the deadly spy network. And the more she learns about Department D, the more she realizes the true danger might be coming from someone closer than she expects…
On sale for just $1.99!
Pre-Order End of the Lie Today!
With her harrowing tale of espionage and near death experiences finally out in the open, Anastasia Phoenix thought things would be better. That she and her friends had outsmarted Department D, the criminal empire her parents helped create.
She thought wrong.
Former friends have turned to enemies, causing more innocent lives to get swept up into the dangerous world her parents created. Now it's up to Anastasia to stop the damage before anyone else gets hurt—or worse. She embarks on a treacherous trail from Poland to Prague, and old rivals emerge at every turn. But when the final confrontation occurs, will she be too late to protect the ones she loves…or even herself?
About Author