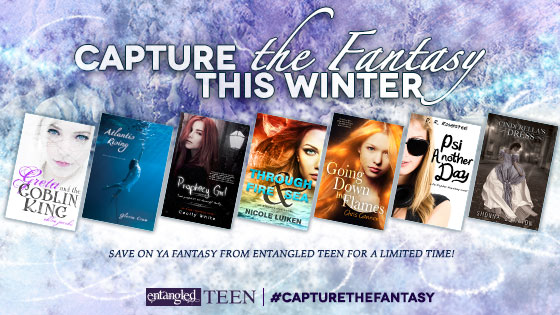 Capture The Fantasy this Winter with Entangled TEEN!
Over the next several months, Entangled TEEN has a bunch of brand new fantasy novels releasing on both our print and digital first lines, so we thought that the best way to celebrate these new books was to offer a series of exclusive eBook sales for a short period of time.
Until March 13, 2016, Going Down in Flames, the first book in the Going Down in Flames Series by Chris Cannon, is on sale for $0.99! To give you an idea of what to expect from this book, we reached out to the author to share with us a storyboard that best represents Bryn's world. We hope that you love it as much as we do!
Meet Bryn and the Rest of the Going Down in Flames World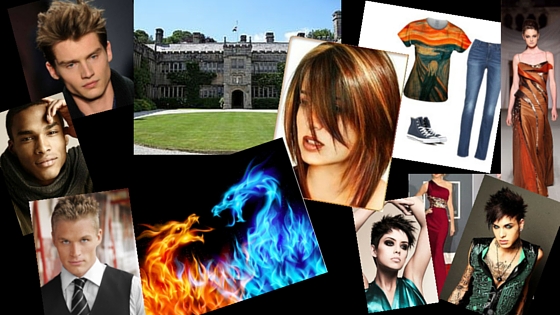 Bryn McKenna finds out she's a shape-shifting dragon when flames shoot out of her mouth for the first time. Surprise! It turns out her parents ran away from a secret society of shape-shifting dragons to escape arranged marriages. They never told Bryn of their true nature because they'd been taught that crossbreeding between Clans (he's a Red, she's a Blue) couldn't produce a functional shape-shifting dragon. Now Bryn must face the archaic society her parents left behind where the Directorate controls everything from employment opportunities to arranged marriages, even what classes students are allowedto take at school.
Jaxon is the son of the man Bryn's mom jilted all those years ago. His personal mission…make Bryn's life a living hell. Garret a Green dragon wants to study Bryn. Clint and Ivy two tattooed, wild-haired Black dragons befriend Bryn. She finds herself attracted to Zavien the head of the student Revisionists, a group who opposes the Directorate but she has no idea if he feels the same way. And she's not sure what to think about Valmont, a descendant of knights who comes to her aid and activates a latent magical spell in his blood, which makes him her knight.
Check out this short teaser about the "warm" welcome Bryn gets at school from Chris Cannon's Going Down in Flames:
She trudged across campus, ignoring the muttered insults and hostile looks. A Blue male coming toward her shifted so he was in her path. She stepped to the side, and he followed suit. When they were a foot apart, she stopped and crossed her arms over her chest. "Can I help you?"

He moved in closer and gave a smile that made her blood run cold. "You won't survive the semester."

Heart beating too fast, she worked hard to keep a neutral expression on her face. "Do you make a habit of bullying girls? I thought Blues were supposed to be honorable."

He leaned in closer, so his face was inches from hers. "I'm not bullying you. I'm stating a fact."

Sweat slicked her palms as this interaction reached a new level of crazy. "Thanks for the heads up." She stepped to the side, hoping he wouldn't follow. He didn't, so she resumed walking toward her dorm.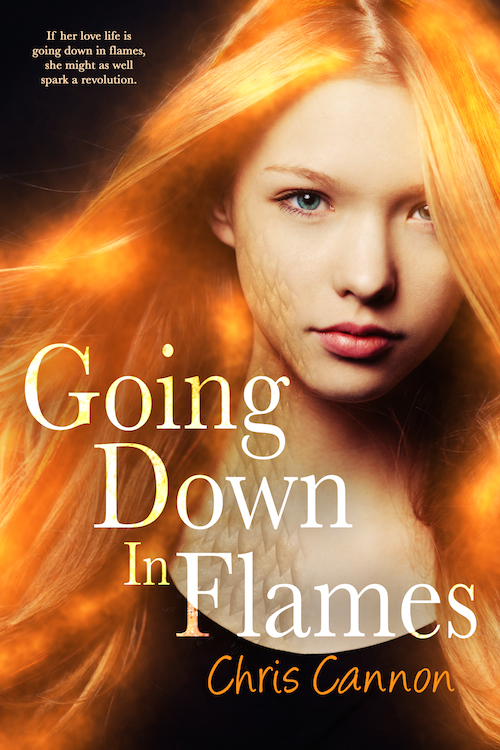 About Going Down in Flames (Going Down in Flames, #1):
Finding out on your sixteenth birthday you're a shape-shifting dragon is tough to swallow. Being hauled off to an elite boarding school is enough to choke on.

Since Bryn is the only crossbreed at the Institute for Excellence, all eyes are on her, but it's a particular black dragon, Zavien, who catches her attention.

Zavien is tired of the Council's rules. Segregated clans, being told who to love, and close-minded leaders make freedom of choice almost impossible. The new girl with the striped hair is a breath of fresh air, and with Bryn's help, they may be able to change the rules.

At the Institute, old grudges, new crushes, and death threats are all part of a normal day for Bryn. She'll need to learn to control her dragon powers if she wants to make it through her first year at school. But even focusing on staying alive is difficult when you're falling for someone you can't have.
Want to Read More? Get a Copy of Going Down in Flames Today: