Whatever Life Throws at You by international bestselling author, Julie Cross, releases on October 7th, 2014. In less than a week you can hold this amazing book in your hands!!!! In the meantime, if you'd like more information about Whatever Life Throws at You, and want to swoon over the new trailer like we are, see below.
We're in love with the trailer…are you?!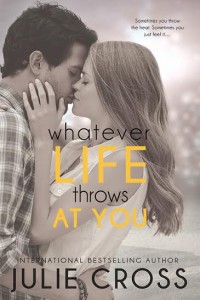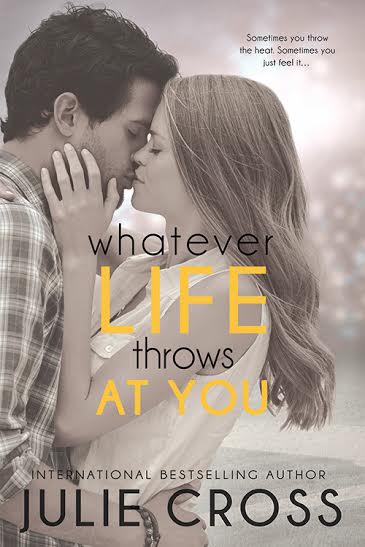 Life loves a good curveball…
Seventeen-year-old Annie Lucas is too young to remember her dad's glory days as a pitcher for the Yankees. So when her father is offered a coaching position with the Kansas City Royals, Annie is intrigued to see the baseball side of her dad. Of course, knowing he'll be a mentor to hot young rookie pitcher, Jason Brody, certainly makes it more enticing.
After an awkward first meeting with "Brody" involving very little clothing and a much-too-personal locker room interview, Annie's convinced she knows Brody's type: arrogant, self-involved, bossy. As her dad grows closer to the pitching phenom, the friction between Brody and Annie increases. But when opening day arrives and it looks like both her dad and Brody may lose their dream jobs, Annie steps up and offers support. She and Brody call a truce that grows into friendship—and beyond. Falling for a rising star who's quickly reaching a level that involves rabid female fans is not what Annie would call smart, except suddenly she's getting hints that maybe this crush isn't one-sided after all. Could someone like Brody actually fall for a girl like her?
Praise for Whatever Life Throws at You:
"I loved this book so hard. It was perfect, fun, and swoony!"
—Katrina Tinnon of Bookish Things & More
"Julie Cross' writing is so addictive that you will be instantly hooked. I fell in love with Jason Brody!"
—Amanda Pedulla of Stuck in YA Books
"A delicious mix of baseball and romance, Whatever Life Throws at You is a book I was reluctant to put down. I absolutely loved it!"
—Jessica of Stuck in Books
"An irresistible story about family, first love, and following your heart."
—Jen of Jenuine Cupcakes
"Julie Cross once again delivers with this swoon-worthy, laugh-out-romance between a sexy rookie baseball player and the new coach's daughter."
—Yara Santos of Once Upon a Twilight
"Whatever Life Throws at You is a perfect story about growing up and the hardships you'll uncover no matter what profession you choose. It's filled with laughs, heartbreaks, tears, suspense, and plenty of romance."
—Jessica Reigle of Step Into Fiction
About Author