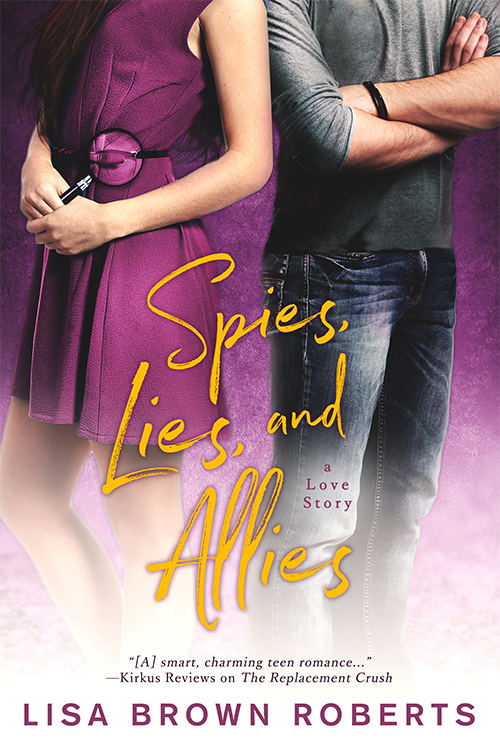 Welcome to Swoon Sunday where you get to meet some of our swoon-worthy heroes.  Today we have a visit from Carlos Rubio from Spies, Lies, and Allies by Lisa Brown Roberts!
Carlos, why don't you describe yourself to us.
Dark brown hair, brown eyes (somebody told me they look like candy), 5'11. I play soccer and run, so I'm in good shape.
Where do you call home?
Denver. With way too many brothers and sisters invading my personal space.
What kind of music do you listen to? 
Hip-hop. EDM. Depends on my mood, and who I'm with.
What is your biggest dream/wish/desire?
To be the first one in my family to finish college. Not just my bachelor's degree- I want to do more, maybe a law degree.
What's your darkest secret?
I'm crushing hard on the boss's daughter, but it's against the internship rules to "fraternize." Let's just say I'm extremely frustrated. And not afraid to break the rules.
Describe your idea of an ideal date.
No interruptions from annoying siblings. Surprising a girl by taking her to her favorite place- a restaurant, a hike, whatever she wants. Taking my time showing her exactly how I feel about her.
Who is your idol?
My parents, which sounds dumb but it's true. They work their asses off to make our restaurant a success.
Froot Loops or Lucky Charms (or both)?
Special K, because it reminds me of Laurel, the boss's daughter who I can't stop thinking about.
What is your biggest pet peeve?
Liars.
Favourite fictional character?
Depending on what Laurel wears to Comic Con, I'm pretty sure it's going to be whatever character she's dressed as.
What is your favourite sports team?
Colorado Rapids soccer team, because I play soccer.
Liked this interview with Carlow? Then check out a swoony moment between him and Laurel:
"Did anyone ever tell you your eyes look just like Hershey's Kisses?" Omigod. That was my outside voice.

Carlos blinks, then a slow grin reappears as he points his pen at me. "You just proved my point. I definitely wasn't expecting you to compare me to a food product."

"A dessert," I clarify. "Not just any food product."

"See how much progress we're making? We just leapt ahead to number five."

"What's number five?"

He props his hands on the table, resting his chin on his hands. "Nicknames. You can't expect me to do everything, Dobby."

"Don't call me Dobby. That's a horrible nickname."

"Hermione?"

I shake my head and mirror his posture, propping my chin on my hands as my elbows rest on the table.

"Special K?"

I shrug. "Did you give me the cereal box?"

"Affirmative."

"Hmm. Maybe I'll allow it." I'm rewarded with both dimples and it's a good thing I'm sitting down, because my knees are jelly.

"How about Jedi?" he asks. "Or is that one reserved for Elijah?"

"Correct. Only fellow Star Wars geeks can use it."

We gaze into each other's eyes, oblivious to the busy restaurant noise surrounding us. If eyes can laugh, his are. Now I hope Elijah's phone call lasts as long as every painful Star Wars scene with Jar Jar Binks.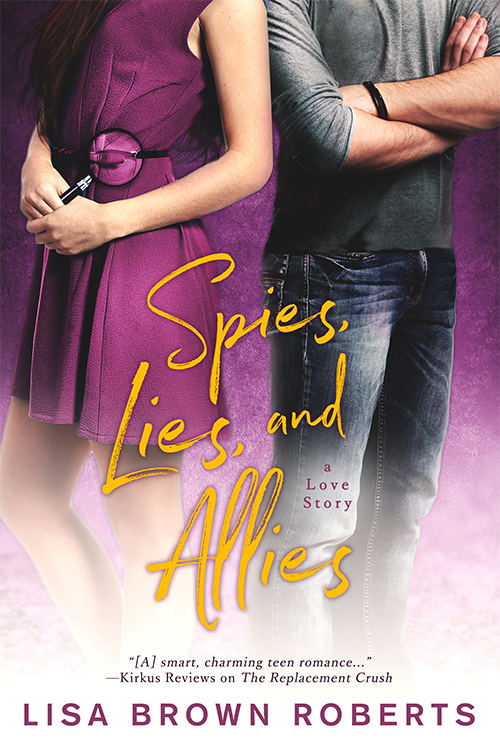 About Spies, Lies, and Allies: A Love Story:
Summers are supposed to be fun, right? Not mine. I've got a job at my dad's company, which is sponsoring a college scholarship competition. I just found out that, in addition to my job assisting the competing interns, I'm supposed to vote for the winner. Totally not what I signed up for.

My boss is running the competition like it's an episode of Survivor. Then there's Carlos, who is, well, very distracting––in a good way. But I can't even think about him like that because fraternizing on the job means instant disqualification for the intern involved.

As if that's not enough, an anonymous informant with insider intel is trying to sabotage my dad's company on social media…and I'm afraid it's working.

Much as I'd love to quit, I can't. Kristoffs Never Quit is our family motto. I just hope there's more than one survivor by the end of this summer.
Want to read more? Pre-order your copy of Spies, Lies, and Allies: A Love Story by Lisa Brown Roberts today!

About Lisa Brown Roberts:
Lisa Brown Roberts still hasn't recovered from the teenage trauma of nearly tweezing off her eyebrows and penciling them in for an entire school year. This and other painful memories inspire her to write books in which girls big on wit and heart earn happy endings with swoony guys…eventually. Her almost forever home is Colorado, though she occasionally pines for the days when she lived within walking distance of the Pacific Ocean. Her house is full of books, boys, four-legged prima donnas, and lots of laughter.
About Author