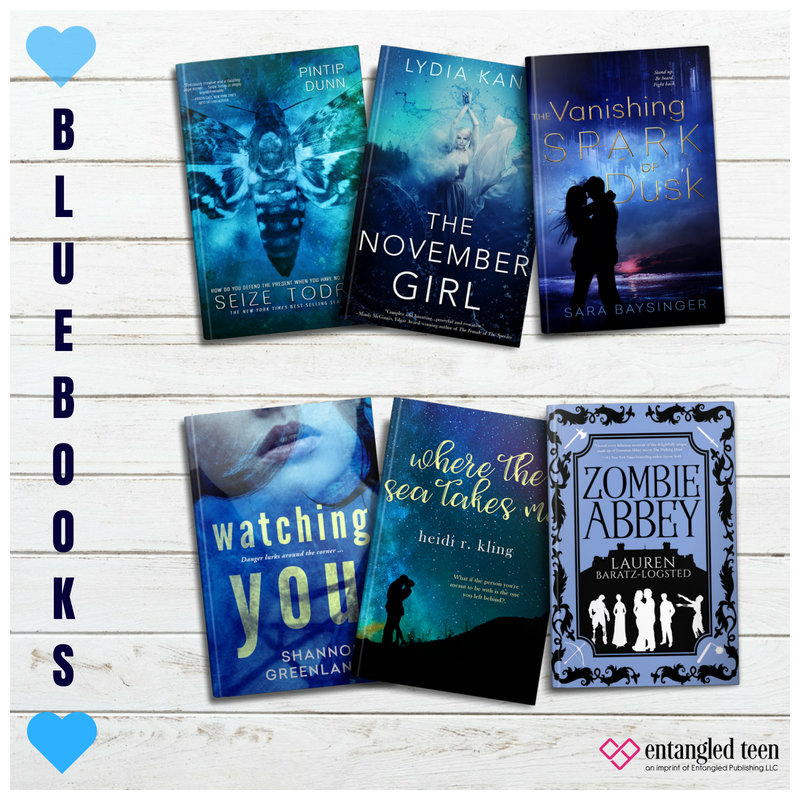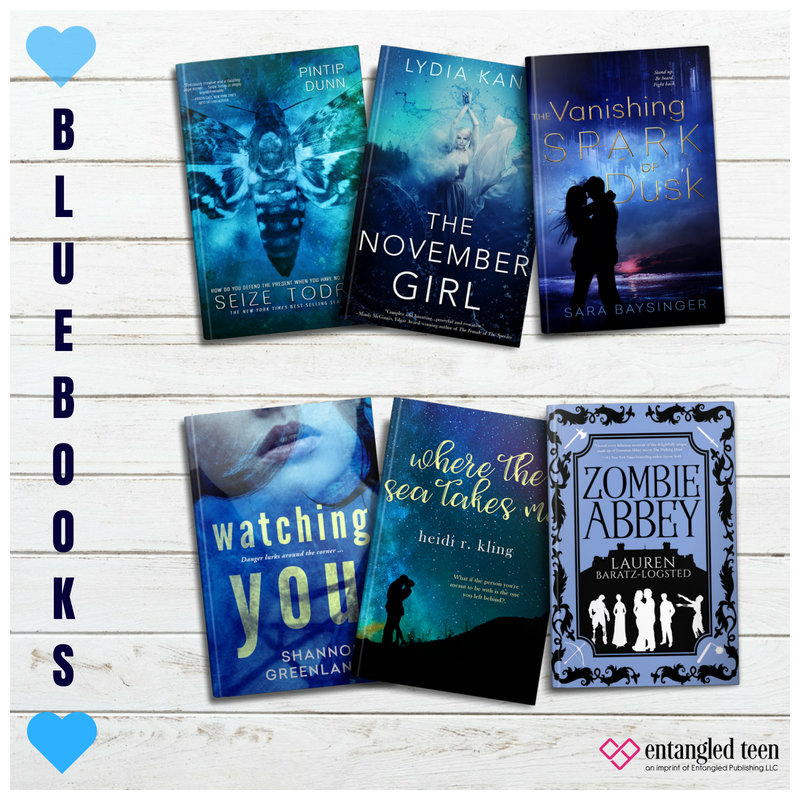 We love blue books and we cannot lie!
Seize Today by Pintip Dunn
2018 RWA RITA® winner for Best Young Adult Romance
Seventeen-year-old Olivia Dresden is a precognitive. Since different versions of people's futures flicker before her eyes, she doesn't have to believe in human decency. She can see the way for everyone to be their best self-if only they would make the right decisions. No one is more conflicted than her mother, and Olivia can only watch as Chairwoman Dresden chooses the dark, destructive course every time. Yet Olivia remains fiercely loyal to the woman her mother could be.
But when the chairwoman captures Ryder Russell, the striking and strong-willed boy from the rebel Underground, Olivia sees a vision of her own imminent death…at Ryder's hand. Despite her bleak fate, she rescues Ryder and flees with him, drawing her mother's fury and sparking a romance as doomed as Olivia herself. As the full extent of Chairwoman Dresden's gruesome plan is revealed, Olivia must find the courage to live in the present-and stop her mother before she destroys the world.
The November Girl by Lydia Kang
I am Anda, and the lake is my mother. I am the November storms that terrify sailors and sink ships. With their deaths, I keep my little island on Lake Superior alive.
Hector has come here to hide from his family until he turns eighteen. Isle Royale is shut down for the winter, and there's no one here but me. And now him.
Hector is running from the violence in his life, but violence runs through my veins. I should send him away, to keep him safe. But I'm half human, too, and Hector makes me want to listen to my foolish, half-human heart. And if I do, I can't protect him from the storms coming for us.
The Vanishing Spark of Dusk by Sara Baysinger
Stand up.
When Lark is stolen from Earth to be a slave on the planet Tavdora, she's determined to find her way back home to her family, no matter the cost. Placed in the household of a notorious slave trader, Lark quickly learns her best assets are her eyes and ears. And if she's brave enough, her voice.
Be heard.
Kalen is the Tavdorian son of a slave trader and in line to inherit his father's business. But his growing feelings for Lark, the new house slave who dares to speak of freedom, compel him to reveal his new plan for the slave ships returning to Earth—escape. Together, they just might spark a change that flares across the universe.
Fight back.
Watching You by Shannon Greenland
Viola's always been that girl from that family, so a scholarship to a prestigious private school in Florida was supposed to be her ticket out of poverty and into a brand-new life. But Viola's secrets have followed her. Her relationship with the intelligent and gorgeous Riel should have been the salvation she needed—he understands her troubled past better than anyone. But then weird things start to happen.
Frightening messages.
Missing personal items.
The unsettling feeling that she's being watched.
Viola's never been one to give her trust easily, but she'll need to trust in Riel if she's going to survive her stalker. Because she's not fighting for a new life anymore—she's fighting to stay alive.
Where the Sea Takes Me by Heidi R. Kling
Two years later might as well be two lifetimes.
Sienna's in college, working hard to achieve her dreams, and trying to love another boy—and halfway succeeding. She'd be totally happy with her life if she could just stop dreaming about him. Deni. The boy she left behind on the shores of Banda Aceh.
When she gets word Deni's coming to America, Sea's world shifts. And when he arrives on her doorstep, she's shaken to the core.
Sparks don't just fly, they soar—and threaten to burn down the new life she's so patiently, persistently, built.
When they're both invited to join a relief mission in Cambodia, they jump at the chance to help…and be together. As the time and distance between them melts away in the sticky Cambodian heat, Sienna knows her heart can't take losing him again.
And that's exactly what might happen.
Zombie Abbey by Lauren Baratz-Logsted
1920, England
And the three teenage Clarke sisters thought what they'd wear to dinner was their biggest problem…
Lady Kate, the entitled eldest.
Lady Grace, lost in the middle and wishing she were braver.
Lady Lizzy, so endlessly sunny, it's easy to underestimate her.
Then there's Will Harvey, the proud, to-die-for—and possibly die with!—stable boy; Daniel Murray, the resourceful second footman with a secret; Raymond Allen, the unfortunate-looking young duke; and Fanny Rogers, the unsinkable kitchen maid.
Upstairs! Downstairs! Toss in some farmers and villagers!
None of them ever expected to work together for any reason.
But none of them had ever seen anything like this.
About Author