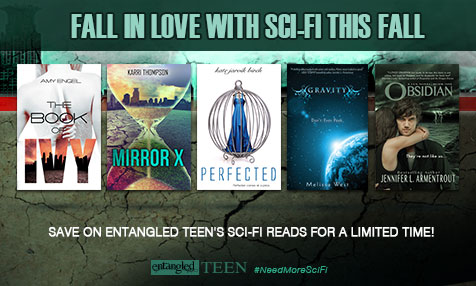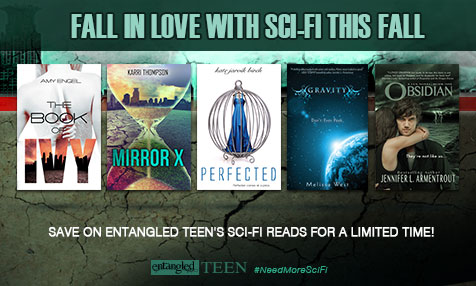 If you #NeedMoreSciFi this fall, Entangled TEEN has got you covered!
As you know, Entangled TEEN has a bunch of exciting new Sci-Fi and Fantasy books coming out between now and early January, so we thought, "What better way to celebrate than by showing off ALL the great Sci-Fi and Fantasy titles Entangled TEEN has to offer!"
Today, instead of showcasing one of the books on sale, we've decided to feature one of the newest #NeedMoreSciFi authors that we're excited about – Pintip Dunn and her book Forget Tomorrow. This book is the first in the Forget Tomorrow Trilogy, and we think that once you pick it up, you won't be able to put it down for several reasons. One of which is the swoonworthy hero: Logan Russell.
Top 5 Traits of a Hero: Logan Russell from Forget Tomorrow
I absolutely adore Logan Russell, Callie's love interest in FORGET TOMORROW. Why? He's super cute, sure. (What's not to like about green eyes, dimples, and a chiseled swimmer's build?) But beyond his good looks, I loved writing his character because he is a hero, through and through.
Here are his top five traits:
1. Thoughtful:
When they are in the T-minus five class (five years and counting until receipt of the future memory, roughly equivalent to the seventh grade), Callie falls over in her chair when she cranes her neck to get a glimpse of the sun. As a result, she is sent to the deepest, darkest corner of the classroom. Because Logan knows that Callie wilts when she is shut away from the outside, he leaves a red leaf on her desk, to make her think of the sun. It reminds Callie, instead, of Logan's brilliant smile.
2. Brave/Self-sacrificing:
Without giving anything away, Logan is the kind of hero that you want on your side. At great personal risk to himself and his future, he rescues Callie from Limbo, a hellish prison for those destined to break the law. Later, he goes against the wishes of the person he most wants to impress to help Callie do the right thing.
3. Sensitive:
At the same time, Logan cares a great deal about his family. He is haunted by an incident from his childhood, when his inaction put one of his loved ones in jeopardy. Despite all of his appealing qualities, he's certainly not perfect, and five years after the incident, he continues to feel a deep, pervasive guilt that shapes all of his actions — and momentarily clouds his judgment.
4. Capable:
Logan is the consummate outdoorsman. There's nothing he can't do — build a fire, navigate a map, side-stroke across a river dragging someone on his hip. This is very fortunate for someone like Callie, who never learned how to swim.
5. Believes in Callie:
Last, but not least, Logan sees into the very heart of Callie. When she has doubts and fears the monster that she will become, he believes in her strength and her love for her sister. Callie's not at all sure she can be the girl in his vision — but she would like to be. It is with Logan's belief that she is able to fight the future and Fate itself.
There you have it! The top five reasons why I — and Callie — love Logan. What do you think? How would you like a hero like this in your life? What traits do you think a hero should have? Please share. I'd love to see your answers!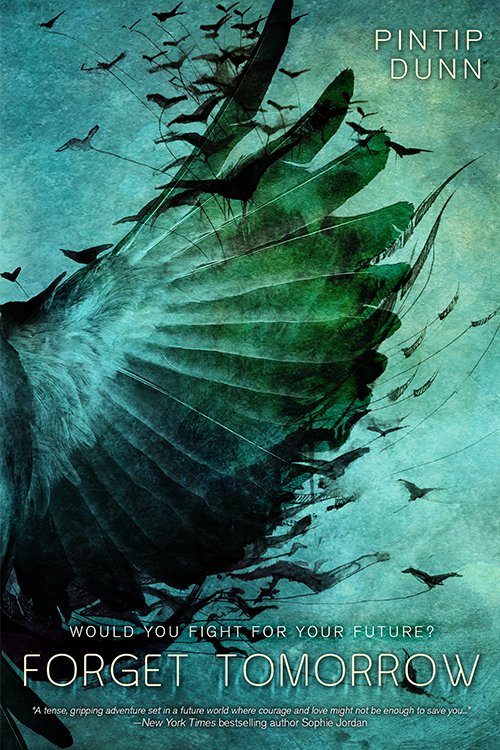 About Forget Tomorrow:
Imagine a world where your destiny has already been decided…by your future self.

It's Callie's seventeenth birthday and, like everyone else, she's eagerly awaiting her vision―a memory sent back in time to sculpt each citizen into the person they're meant to be. A world-class swimmer. A renowned scientist.

Or in Callie's case, a criminal.

In her vision, she sees herself murdering her gifted younger sister. Before she can process what it means, Callie is arrested and placed in Limbo―a hellish prison for those destined to break the law. With the help of her childhood crush, Logan, a boy she hasn't spoken to in five years, she escapes.

But on the run from her future, as well as the government, Callie sets in motion a chain of events that she hopes will change her fate. If not, she must figure out how to protect her sister from the biggest threat of all—Callie, herself.
Want to read more?
Want to read more? Buy Forget Tomorrow now: