Welcome to Swoon Sunday where you get to meet some of our swoon-worthy heroes.  Today we have a visit from Riel Villanuevo from Watching You by Shannon Greenland.
Riel, how would you describe how you look?
The girl I like, Viola, says I look a lot like a young Antonio Sabato, Jr.
Where do you call home?
I was born in Spain, but now I call Florida home.
What kind of music do you listen to? 
I'm a sucker for a good acoustical Spanish guitar piece.
Do you have a special skill?
Hm, does being bi-lingual count?
What is your biggest dream/wish/desire?
I want more than anything to go to MIT, become an engineer, and provide a great life for my little sister.
Describe your idea of an ideal date.
Sailing, snorkeling, and a night snuggling and staring at the stars.
What's your favorite pastime/hobby?
I love anything involving water—surfing, sailing, snorkeling, diving, swimming…
Boxers or briefs?
Boxers, definitely.
Early bird or night owl?
I would love to sleep in, but my little sister always wakes me up. So, like it or not, I am an early bird.
Liked this interview with Riel? Then check out this sexy moment between he and Viola:
Riel levers himself up, but he doesn't immediately move and instead gazes down at me with an expression I haven't seen yet. Bewilderment. Realization. Adoration. Love. I can't quite peg it.
"Eres la mujer más increíble del mundo. Un día espero que seas mi esposa."
Then he's gone, leaving his deep words resonating throughout my body. I have no idea what he just said, but the tender tone of his voice tells me he's never said it before. It tells me those words were meant just for me.
For me.
"Yes, perfect." This time I say it out loud. Like I need to hear it to really believe it.
Minutes later, Riel is back, and with a sigh, he kneels down beside me. "No condoms."
I want to smile at his bummed expression, but instead I say, "There are other things we could do."
His eyes widen in interest. "Yeah?"
"Yeah."
For a few seconds, he doesn't move as his gaze rolls over me, touching on my face, my breasts, my legs, and though he doesn't say a word, I can tell his imagination gets a little dirty and wild. I'd love to be inside his head right now.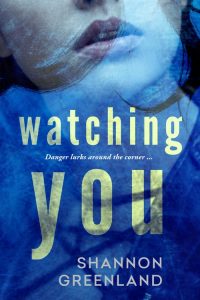 About Watching You
Viola's always been that girl from that family, so a scholarship to a prestigious private school in Florida was supposed to be her ticket out of poverty and into a brand-new life. But Viola's secrets have followed her. Her relationship with the intelligent and gorgeous Riel should have been the salvation she needed—he understands her troubled past better than anyone. But then weird things start to happen.
Frightening messages.
Missing personal items.
The unsettling feeling that she's being watched.
Viola's never been one to give her trust easily, but she'll need to trust in Riel if she's going to survive her stalker. Because she's not fighting for a new life anymore—she's fighting to stay alive.
Want to read more? Order your copy of Watching You by Shannon Greenland today!

About Shannon Greenland
Shannon Greenland, or S. E. Green, is the award winning author of the teen thriller, Killer Instinct, a YALSA Quick Pick for Reluctant Readers; the teen spy series, The Specialists, an ALA Popular Paperback and a National Reader's Choice recipient; and the YA romance, The Summer My Life Began, winner of the Beverly Hills Book Award. Her books have been translated into several languages and are currently on numerous state reading lists. Shadow of a Girl is her latest novel and due out 9.19.16. Shannon has participated in and served as a guest speaker at festivals and conferences around the country to include but not limited to the LA Times Book Festival, American Library Association, Book Expo of America, Bouchercon, Romance Writers of America, RT Book Convention, Young Adult Keller Book Festival, Southern Festival of Books, and many more. Shannon grew up in Tennessee where she dreaded all things reading and writing. She didn't even read her first book for enjoyment until she was twenty-five. After that she was hooked! When she's not writing, she works as an adjunct math professor and lives on the coast in Florida with her very grouchy dog. Find her online everywhere @segreenauthor.
About Author