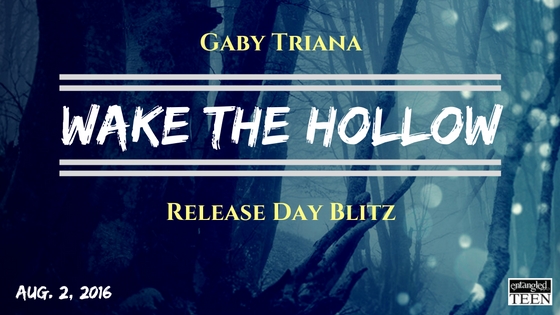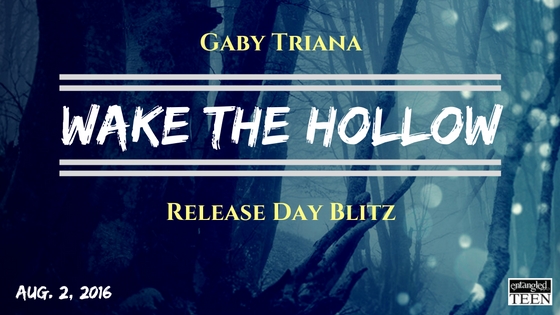 Celebrate the Release Day Blitz with Us & Gaby Triana!
We can't wait to hear what you think of Gaby Triana's Wake the Hollow, which is her sixth published book, but first with Entangled TEEN! We think that it's a great YA Retelling of The Legend of Sleepy Hollow, which will keep you guessing to the very end.
Want a to read a short teaser before you pick up the book?
Read This Teaser Featuring One of Mica's Nightmares & a Swoony Moment…
"Keep him safe, I beg of you…

She's inches from my face. Soft, pleading, tearing eyes. Something's familiar about them. I can't make sense of it, though. It's as if our souls are connected, or had been, for some time. Then, I hear my mother again…

…was my father's guide, then mine…now yours…

follow her…

As much as I try to do as she tells me, panic strikes me again. I fight it with a strong lunge forward, and it works. I break away, hurtling toward the ghost woman with outstretched hands. Solid iciness grips me and tugs hard. Suddenly, we're flying above the chugging steam train, and I'm following her down the grassy landscape. When she glances over her shoulder at me, her face is clearer. Eyes, nose, mouth, for a fraction of a second. I know you.

Micaela…

What is it?

Find it.

Find what?

Proof.

Of what? My God, what does she want?

Of us! The woman shouts, her mouth opening into a gaping black hole.

I scream. Wake up! Wake up! My own voice shrieks in my ears, drowned out against the screeching of the steam engine.

"Wake up!"

Something holds me down. The paralysis. The woman. I can't tell… Rock-solid hands grip my arms, too strong to be a frail, grieving wraith. Finally, I let out a shrill cry and force my eyes open. Dark, except for the white blinds over the open window tapping lightly against the sides.

Bram hovers over me in bed, struggling with my flailing arms, using his knee to block my kicks. "Mica, stop! You're dreaming." But I keep fighting. Is he attacking me? Was he snooping in my mom's envelope? Where is the envelope? Then I focus on Bram's face, and reality swerves in. He's just consoling me. "Oh my God. I can't take this anymore. I swear, I can't."

"That's it. I'm calling a doctor for you."

"No!" I cry against his shirtless chest, his smooth skin warm against my face. "I don't want doctors. They wouldn't understand. I just want…"

I don't know what I want, but it's definitely not a psychotherapist telling me I'm delusional. I want someone I can trust near me at all times. I need Bram here, just like this. Every night. I can't sleep alone anymore. That way, if I do fall into the sleepless abyss again, he'll be here to yank me free.

"Want what?" His confused eyes search mine, heavy breath from the struggle of waking me still on his lips. The air between us, electric. I'm falling from all things sensible, like dreams blending with reality, except reality keeps changing with every passing day.

Bram's face is inches from mine as he tries to focus in the dark.

I hear his heartbeat.

About Wake the Hollow:
Forget the ghosts, Mica. It's real, live people you should fear.

Tragedy has brought Micaela Burgos back to her hometown of Sleepy Hollow. It's been six years since she chose to live with her father in Miami instead of her eccentric mother. And now her mother is dead.

This town will suck you in and not let go.

Sleepy Hollow may be famous for its fabled headless horseman, but the town is real. So are its prejudices and hatred, targeting Mica's family as outsiders. But ghostly voices carry on the wind, whispering that her mother's death was based on hate…not an accident at all. With the help of two very different guys—who pull at her heart in very different ways—Micaela must awaken the hidden secret of Sleepy Hollow…before she meets her mother's fate.

Find the answers.

Unless, of course, the answers find you first.
Want to Read More? Buy Wake the Hollow Today!

About Author