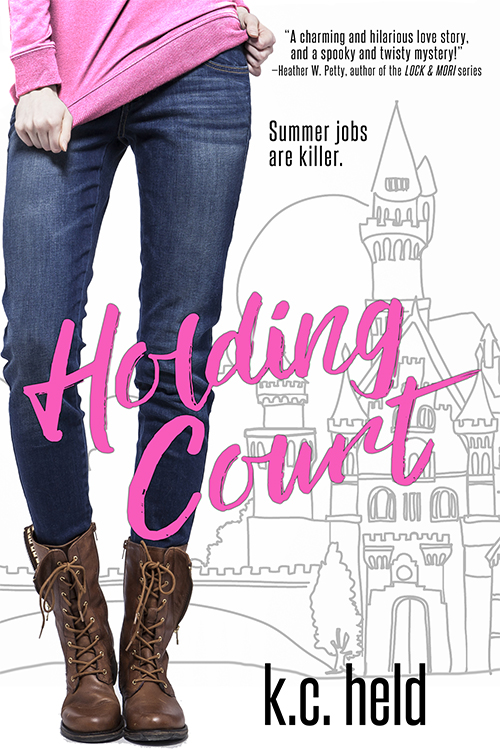 We are so excited to share these new releases today!
About the book:
Sixteen-year-old Jules Verity knows exactly what's in store at her new job at castle-turned-dinner-theater Tudor Times. Some extra cash, wearing a fancy-pants dress, and plenty of time to secretly drool over the ever-so-tasty–and completely unavailable–Grayson Chandler. Except that it's not quite what she imagined.
For one, the costume Jules has to wear is awful. Then there's the dead body she finds that just kind of…well, disappears. Oh, and there's the small issue of Jules and her episodes of what her best friend calls "Psychic Tourette's Syndrome"–spontaneous and uncontrollable outbursts of seemingly absurd prophecies.
The only bright side? This whole dead body thing seems to have gotten Grayson's attention. Except that the more Jules investigates, the more she discovers that Grayson's interest might not be as courtly as she thought. In fact, it's starting to look suspicious…
Want to read more? Buy Holding Court now:

Upcoming Book Signings & Events:
3/3/2016: The Princess Bride Live Rewatch with K.C. Held, Katherine Fleet, Emily McKay, Heidi R. Kling & Sara Wolf @ 8pm EST (5pm PST)
3/6/2016: Book Launch with Katherine Longshore at Avid Reader in Davis, CA @ 2pm PST
3/13/2016: Moderating the Teen Panel at Litquake in Palo Alto, CA @ 4:30-5:20pm PST
4/2/2016: Saturday Market Signing with Amy Allgeyer at Rediscovered Bookshop in Boise, ID @ 11am-1pm MST
4/12/2016: YA Spooky Slumber Party at RT Convention in Las Vegas, NV @ 10:30pm to 12am PST, Brasilia 7
4/13/2016: YA Book-tionary at RT Convention in Las Vegas, NV @ 2:45-3:45pm PST, Amazon J
6/4/2016: Bay Area Book Fest – Signing at the SCBWI Booth @ 4-6pm PST
Giveaway:
About the book:
Get ready for the exciting follow up to Atlantis Rising, dubbedAn enchanting debut from a promising new author of paranormal YAby Kirkus Reviews.
After all they'd cost me, I thought I was done with the Truss clan. I was wrong. Nikki Dawning, my mortal enemy, has beenkidnapped, and I've been asked to spy on the Truss to find her. The pull between Ian and I has never been stronger, but he can't help me this time. I have to rely on Theron, a bad-tempered cousin I didn't know I had. To make matters worse, the people I trust have been keeping secrets.
I'm starting to feel like a weapon in a war I don't understand. How far am I willing to go to protect the descendants of Atlantis and the common good when I'm not sure what the common good is anymore?
Only one thing is certain. If I'm the next Laurel clan chief, I can't let myself be manipulated…by anyone.
Want to read more? Buy Atlantis Quest (Atlantis Rising, #2) now:

Upcoming Book Signings & Events:
3/2/2016: AMA (Ask Me Anything) on Reddit.com/r/Books with Gloria Craw @ 2-5:30pm EST (11-2:30pm PST)
3/10/2016: Capture The Fantasy Twitter Chat with Gloria Craw, Brenda Drake, Chris Cannon, Chloe Jacobs, Alyxandra Harvey, Nicole Luiken, and L.E. Sterling @ 5-9pm EST (2-6pm PST)
Giveaway:
About Author