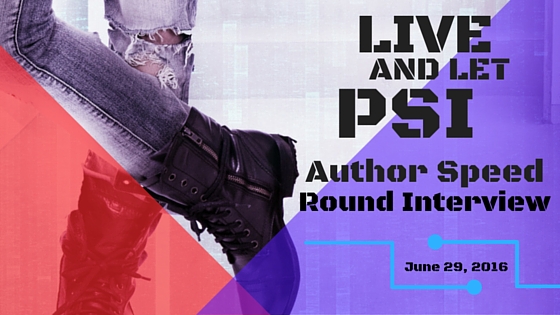 Author Speed Round Interview with D.R. Rosensteel!
Sometimes at Entangled TEEN, we like to play a little game of would you rather that we like to call an Author Speed Round Interview. We ask authors a series of questions, they get back to us with the first thing that pops into their head, and you get to see a little bit closer into the life of your fave…or soon to be fave YA authors.
Today, D.R. Rosensteel, the author of Psi Another Day and Live and Let Psi, shares his responses to questions as diverse as psychological warfare vs. hand-to-hand combat, spear or sword, and What book he'd like to see made into a movie! So sit back and watch as he answers some of our (and maybe your) burning questions:
Like D.R.'s personality? Learn more about Live and Let Psi…

About Live and Let Psi (Psi Fighter Academy, #2):
She'd rather kick butt than fall in love.

Rinnie Noelle would rather kick some creepy villain butt than go on a date. As a Psi Fighter trained in the Mental Arts, she can't be distracted by emotion. Her nemesis, Nicolaitin, is manipulating students from her school, using them as puppets to carry out his new plan to find the infamous Morgan Girl, and he doesn't care who becomes collateral damage in the process. People's lives are depending on Rinnie's ultimate focus.

But Mason Draudimon keeps slicing into her soul sharper than a Thought Saber, and her feelings for him knock her off her game with the strength of a psionic War Hammer. Mason insists on helping Rinnie take down Nicolaitan for his own reasons—to avenge his mother—and the closer they get to the truth, the more dangerous the dance between mind and heart, life and death, logic and love.
Want to read more? Buy Live and Let Psi (Psi Fighter Academy, #2) now:

About Author