Hello everyone! Lea Nolan here to discuss the crap important stuff I seek out on the web. Make no mistake, this material is more than essential. It's like, vitally crucial to my well-being and that of my manuscript.
You see, when I'm exhausted from drafting a tough scene or I realize the chapter I just labored hours to write belongs in my Mac's trash bin, I need a mental vacation.
So where do I go?
First, the sublime: Who doesn't love Ryan Gosling, especially when he's spouting girl-power mini-manifestos like this?
You can find this and others like it here.
If Feminist Theory Ryan Gosling doesn't do it for you, how about when he gets all literary:
Like that? Of course you do! There's a whole bunch more Hunger Games Ryan Gosling here. You're welcome.
Sometimes smart-hot-man-ness isn't enough to cut it and recharge my juices. That's when I need to switch things up. When the sublime stops working, the only thing left is…
The Ridiculous:
Kim Kardashian's see through skirt. Yup, that's right. It's her butt crack. If that doesn't make you laugh and appreciate your non-celebrity and non-see through clothes, I don't know what will. For more pictures of this debacle, click here.
You know what other craziness helps brighten my day? Anything related to the Real Housewives, especially the New Jersey, New York and Beverly Hills editions. I'll re-watch episodes, read their screwy blogs, even watch snippets from the Watch What Happens Live after show with Andy Cohen.
New Jersey
NYC
Beverly Hills
WWHL
Go ahead, click them. I dare you. A few minutes into watching Housewives cray-cray, you'll start feeling a whole lot better about the chapter you just tossed in the dust bin. It's like swallowing a giant happy pill.
Oh, and there's one last thing that makes me happy. My debut novel Conjure, book one in The Hoodoo Apprentice Series released this week!!! Yippee! To celebrate I've got an awesome giveaway for one of our readers. But before I tell you about that, read on to learn more about Conjure.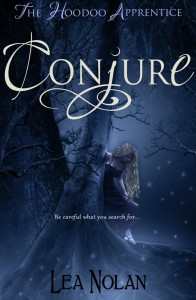 Be careful what you search for…

Emma Guthrie expects this summer to be like any other in the South Carolina Lowcountry—hot and steamy with plenty of beach time alongside her best friend and secret crush, Cooper Beaumont, and Emma's ever-present twin brother, Jack. But then a mysterious eighteenth-century message in a bottle surfaces, revealing a hidden pirate bounty. Lured by the adventure, the trio discovers the treasure and unwittingly unleashes an ancient Gullah curse that attacks Jack with the wicked flesh-eating Creep and promises to steal Cooper's soul on his approaching sixteenth birthday.

But when a strange girl appears bent on revenge, demon dogs become a threat, and Jack turns into a walking skeleton, Emma has no choice but to learn hoodoo magic to undo the hex, all before summer—and her friends—are lost forever.
Sounds pretty great doesn't it? (If I do say so myself!) Well, here's your chance to WIN a digital copy for yourself plus a whole bunch of cool swag including a signed bookmark, magnet, silicone bracelet and a bumper sticker! Fill out the Rafflecopter form below to enter. Easy peasy. Good luck and see you 'round the net!
~Lea
a Rafflecopter giveaway
About Author