Welcome to Swoon Sunday where you get to meet some of our swoon-worthy heroes.  Today we have a visit from West Smith from The Dating Debate by Chris Cannon!
West, why don't you describe yourself to us.
"Seriously?"
(Chris Cannon: "Just do it.")
"It's stupid. They can see what I look like in the picture."
(Chris Cannon rolls eyes. "Want me to do it?")
"Like that would make this situation less awkward. Fine. I'm six feet tall. I have dark blond hair and blue eyes."
(Chris Cannon: Nina calls him the brooding hottie of Greenbrier High)
"I could have gone my whole life without knowing that."
What's your profession?
"I'm a senior at Greenbrier High. My job is keeping my grades up so I can trade them for a scholarship and get the hell out of my dysfunctional house. I'm tired of keeping my family secret."
Where do you call home?
The Midwest. Greenbrier, IL to be specific. Not that you would have heard of it. It's nice and all, but it isn't exactly a vacation destination spot.
What's your darkest secret?
Everything I tell people about my mom is a lie. I tell everyone that she's sick and too ill to have visitors. In reality, she's a hoarder. My entire house is full of Rubbermaid containers full of useless crap she collects. The containers are stacked neatly from floor to ceiling in every room because my dad is OCD. It's a fun way to live. I haven't seen the couch in three years.
What's your favourite dessert/food?
Chili cheese fries
What is your favourite movie of all time?
I'm kind of a closet geek. I mean I look cool, but I love The Lord of the Rings movies and Harry Potter.
What is one thing would you refuse to share?
My chili cheese fries.
What is your biggest pet peeve?
My father had me paint a line down the middle of our shared driveway, so my neighbor Nina would know where to park. She always hugs the line. One of these days I'll probably take off her driver's side mirror. On accident, of course.
Liked this interview with West? Then check out a swoony moment between him and Nina:
"If you put recycling center bumper stickers on my Jeep, I'll put Hello Kitty stickers all over your car."

"Hello Kitty?" I had a hard time pretending to be annoyed because she seemed to be having such a good time stating her case. "What does a glittery cat have to do with the library versus recycling center argument?"

"Not much, but I bought a bunch on clearance at the bookstore so they're my go-to revenge stickers of the moment. And we're not arguing." She smiled and moved closer. "We're debating." She pulled on the strap of my backpack so I'd lean forward. "It's fun." And then she kissed me. My brain pointed out that Nina was a strange girl who got turned on by arguing. My body didn't care. I snaked an arm around her waist and pulled her close.

There were catcalls and some laughter. She pulled away from me and said, "See, this is fun."

"I still don't understand your form of crazy," I said. "But it's working for me."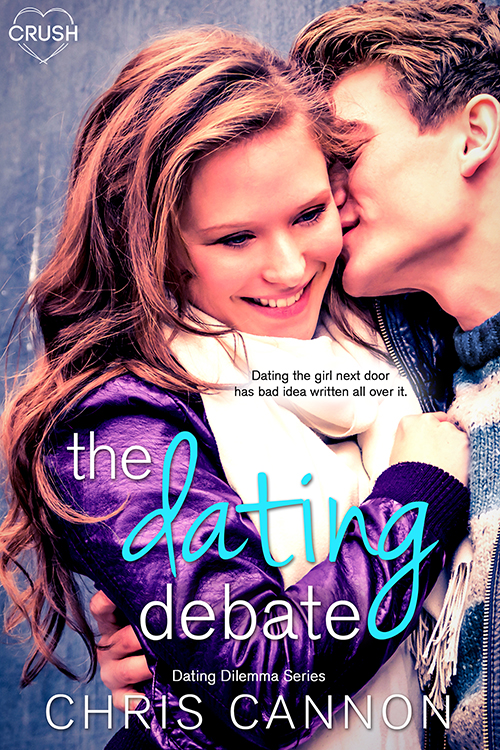 About The Dating Debate (Dating Dilemmas, #1):
Nina Barnes thinks Valentine's Day should be optional. That way single people like her wouldn't be subjected to kissy Cupids all over the place. That is, until her mom moves them next door to the brooding hottie of Greenbrier High, West Smith. He's funny, looks amazing in a black leather jacket, and he's fluent in Harry Potter, but she's not sure he's boyfriend material.

West isn't sure what to make of Nina. She's cute and loves to read as much as he does, but she seems to need to debate everything and she has a pathological insistence on telling the truth. And West doesn't exactly know how to handle that, since his entire life is a carefully constructed secret. Dating the girl next door could be a ton of fun, but only if Nina never finds out the truth about his home life. It's one secret that could bring them together or rip them apart.

Disclaimer: This Entangled Teen Crush book is not for anyone who has to get in the last word, but it is for all book nerds, especially those who live next door to so called unapproachable gorgeous guys. There's no debating the chemistry.
Sound like something you'd want to read? Pre-order your copy of The Dating Debate by Chris Cannon today!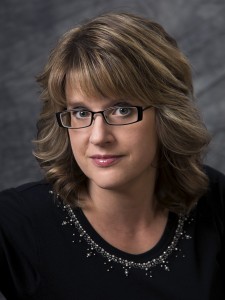 About Chris Cannon:
About Author