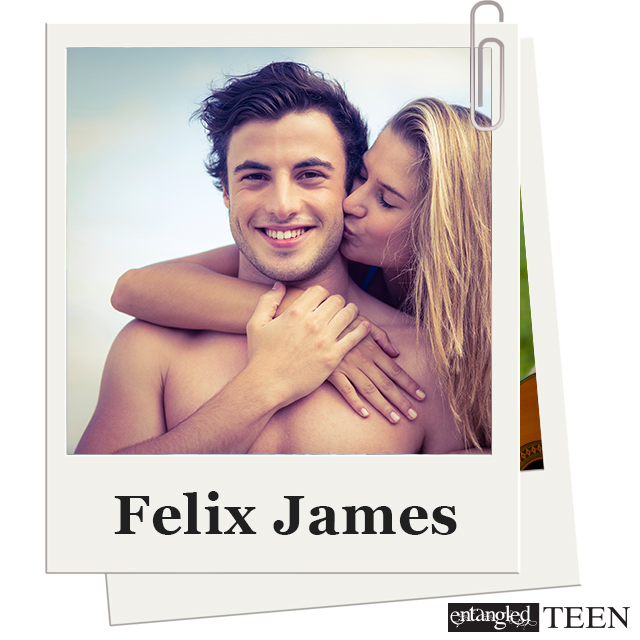 Welcome to Swoon Sunday where you get to meet some of our swoon-worthy heroes.  Today we have a visit from Felix James from Not Okay, Cupid (High School Heartbreakers, #1) by Heidi R. Kling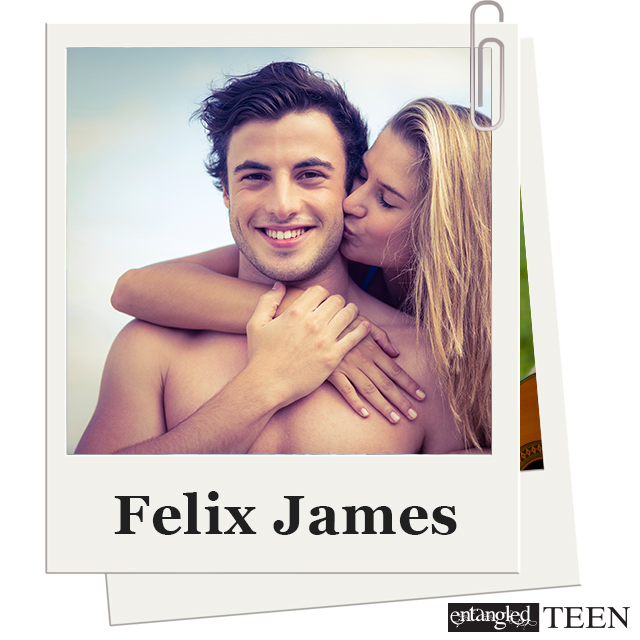 Felix, why don't you describe yourself to us?
I dunno. I don't look at myself that often. But I have brown eyes, brown hair. 6 feet. Decent bod. The ladies seem to like my looks just fine, so I don't have to put much effort into them.
What's your profession?
I'm a high school student. Is that a profession? If so, it's pretty lame. I surf. I'm a cook at the local diner. Sometimes I invent my own recipes. French fries dip is my favorite. I like to experiment.
Where do you call home?
Sunny Cove, Cali
What kind of music do you listen to? (What song are you listing to on his iPod right now?)
I like local tunes. Sometimes Southern rock, sometimes Hip Hop. Whatever suits my mood.
Do you have a special skill?
You'll have to ask my girlfriends. 😉
What is your biggest dream/wish/desire?
You won't tell anyone, right? It's to get with Hazel McAllister. Something about that girl. I'm wishing, hoping, she'll see me as more than the Player of La Playa—her horrible (yet sadly accurate) nickname for me. And to one day open up a diner of my own. Just like Fred's.
What's your biggest regret?
Not being a better guy from the beginning. Losing Hazel is my greatest fear. Not being able to convince her to let go of Jay is my second.
What's your darkest secret?
My feelings for Hazel.
What's your favourite dessert/food?
Pesto dip for my fries, man.
Describe your idea of an ideal date.
Cooking for Hazel and then marathoning X-Files. Then maybe going out surfing.
What's your favourite pastime/hobby?
Surfing, cooking, hanging with Hazel.
What would be your idea of an ideal vacation?
Hawaii or Costa Rica with the Baze.
Describe the craziest thing you have done.
Dude. How much time do you have?
Who is your idol?
Fred.
What is your favourite movie of all time?
Blue Crush. Soul Surfer.
What is one thing would you refuse to share?
My girl.
What is the one thing that no one knows or could never guess about you?
That I actually give a shit about something. And someone.
Boxers or briefs?
Dude. Come on. Boxers of course. Holiday themed!
Froot Loops or Lucky Charms (or both)?
Gross. I like eggs, bacon and toast. I'm a man!
Early bird or night owl?
Both. Depends on the day's plans or the night's delights.
Chunky peanut butter or smooth?
Smooth.
What is your biggest pet peeve?
Jay. Everything about him grinds my last nerve.
Favourite fictional character?
The main character in Soul Surfer based on Bethany Hamilton. Such spirit. She's like Hazel like that.
What is your favourite sports team?
Don't have one. Don't really watch sports on TV. Too much fun to be had outside, man.
If you had to describe yourself as an ice cream flavor, what flavor would you be?
Oh gosh. Chocolate crunch?
Thank you so much for joining us, Arik! Now, here's a swoony excerpt from Not Okay, Cupid for our readers Hazel and Felix…
His arm was a straitjacket, and I was drugged out of my mind. "Remember, just go along with it," he whispered softly in my ear. "I promise this will be awesome."

Go along with…what exactly? I blinked.

Trust Felix James? He'd never completed a revenge plan in his life!

He pinched me. I frowned. He lifted an eyebrow and glanced at Kimmy and Jay. Apparently it was Action Time.

"Have I told you how great you look today, Hazel?" Felix James oozed in the low, sultry tone I'd heard him use over and over with his Barbie Flock of Fans. "I love those new jeans." He hooked his index finger and thumb through the belt loop of my jeans, and I could tell he was saying this loud enough for Jay and Kimmy to hear.

Felix James thought I looked great?

Felix James liked my jeans? 

Go along with it, Felix had said.

Trust me, Felix had urged. And his tone told me I could.

I glanced at the two cheater jerkos, and they were both staring up at us. Dumbfounded.

To be honest, I was struggling to follow along, too.

Was Felix pretending like he had a crush on me?

"You do?" I asked incredulously.

He gave me a hard look. It only lasted a second, but I got the message. He'd said he had a plan.

It was like I could hear him in my mind.

Come on, Baze. Trust and all will be revealed.

"Oh yeah," he said. "Are they Hudsons?"

I almost blurted out they were 501s I'd found at the thrift shop, but he was very convincing.

I froze.

The very idea of Felix James crushing on me. Or liking my jeans. It was just hilarious. Even in my devastated state, the thought made me smile. And made me want to play along just to find out what in the world he was up to.

He shrugged. "And now that you're single, well, I figure it's my chance to ask you out."

"Ask me out?"

"Yes. I've always wanted to," he said loudly, "but you've always been with Jay. So what do you think?" I enjoyed his emphasis on Jay, as if he was saying Donald Trump. Everyone hated Donald Trump.

Felix waggled his eyebrows.

I couldn't say anything, so, with his hand on the side of my hip (!), he continued on. "I know, I know, my timing is horrible, but I know that soon you'll be so in demand by all of other Sunny Cove High's gentleman callers, I have to try now or lose my chance." He moved his hand from my hip and rested both hands on my shoulders. "Don't worry. You don't have to say anything now."

I glanced at Jay, who was looking at me…not with pity…but with jealousy.

He didn't want me to say yes to Felix.

Kimmy looked confused. Then mad. Then confused and mad.

She didn't want me to, either.

Now I got it.

Now I loved it.

Felix had a plan.

It was a revenge plan.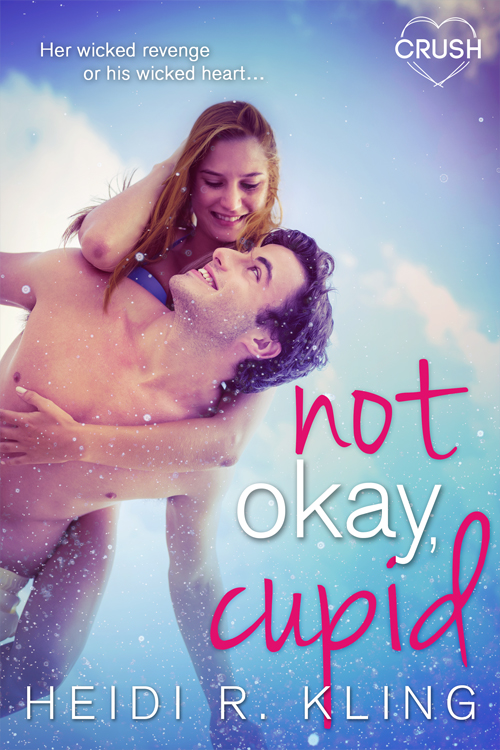 About Not Okay, Cupid (High School Heartbreakers, #1):
Her wicked revenge, or his wicked heart…

Hazel McCallister loves her life. Perfect grades. Perfect best friend. Perfect boyfriend. Until her perfect boyfriend cheats on her with her perfect best friend. Now Hazel's in free fall—until her best friend's brother, Felix, gives her the perfect idea. Reclaim her power by taking revenge on her cheating ex.

Felix James loves his life. Casual relationships. Loads of surfing. He's as drama-free as they come. But he can't stand by when his sister steals her best friend's boyfriend, and the dude insists it was Hazel's fault. So Felix vows to help turn Hazel into a girl her ex can't resist—so then she can break his heart.

With an alliance in place, Hazel's revenge is all but assured. But with each piece of payback, she feels a stronger attraction to Felix, even though revenge will turn her into a girl Felix could never be with. And soon Hazel has to make an impossible choice: revenge…or Felix, the boy who's stolen her heart.

WARNING! This book contains betrayal, revenge, and that most tempting vice of all, the bad boy you know you can't have.
Want to read more? Buy Not Okay, Cupid (High School Heartbreakers, #1) now:
About Author