Hi my name is Lea. I'm a purse-aholic. It's been a several months since I bought my last purse. I'm seriously jonesing for a fix.
Except I'm not here for your help in abstaining from my obsession, I'm here to share it. I LOVE bags. Totes, satchels, bowlers, duffels, purses, clutches, you name it, I covet it. I'm usually a practical, nonsense gal, but all that goes out the window when I spy a sumptuous handbag. There's nothing so appealing as a fine bag, constructed from exquisite materials with precision and expert craftsmanship to serve the most utilitarian of purposes: carry my crap.
These are my favorites: My coach Madeline satchel. Look at that color! Who doesn't need a spring green purse? No one!
They also make this beauty in hot pink but thus far it's eluded me. One day, my precious.
How about this little one? The leather is so soft and creamy you can't help but pet it. And then rub your cheek against it.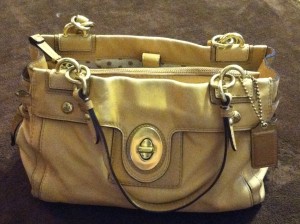 And though I love me some Coach and Kate Spade, I'm equally devoted to Vera Bradley and my new favorite, Spartina 449 which is based on Daufuski Island, South Carolina. My best friend and fellow writer, Laura Kaye, gave me this fantastic bag when I sold The Hoodoo Apprentice series which takes place in the S.C. Lowcountry. What better way to commemorate my first sale?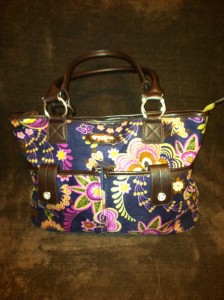 Lest you think I've got a money machine in my basement pumping out mad cash to purchase these pretties, let me set you straight. I most definitely do not. While it's true that my husband has lost his mind on occasion and paid full price for one of these decadent indulgences, I prefer to procure my conquests at half price or less. How? I've got three sources for you:
Ebay. You'd be surprised at the pristine bags you can find which have only been used a few times. Let some other sucker pay full price, then swoop in when they've tired of their new toy and snatch it at a steal. Plus, it's a great place to find bags that are no longer in production.
Consignment shops. Seriously, you won't believe the gems you'll find in a high-end second hand store, especially in this economy. You won't have the selection of Ebay, but whatever is there will be high quality, stunning and most important, cheap.
TJ Maxx. It's a gold mine full of beautiful, brand new bags just waiting for the plucking, all at least half price. My local TJ Maxx has a gigantic bag department, neatly organized by color so you can easily identify what you want. It's the first stop I make in that store and I often find a bag I'm sure I can't live without. Then, because I've promised my husband and kids I'll show some restraint, I walk around with it in my cart debating whether to bring it home. My most painful put-back was a dark green Dooney and Bourke croc tote. It still hurts to think about it, but I remind myself that one day, I'll find her on Ebay.
So how about you? Are you a crazy bag lady too? What objects do you covet? Comment away!
About Author