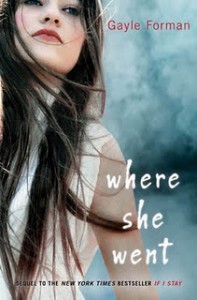 One of my best things about YA books has to be the book boyfriends. Don't get me wrong, I've had many a literary crush on the dudes who fill my favorite adult romances, but boys in YA just seem to take it to another level.
Maybe it's because everything is heightened, more dramatic in young adult literature. Maybe it's because so much of it is told through a first-person, female lens. And maybe it's because the focus is less on the bedroom and a happily ever after then on the building of tension and drama. But whatever the reason, YA boys float my boat. And one of my all-time favorite book boyfriends has to be Adam Wilde from Gayle Forman's If I Stay series.
If you haven't met Mr. Wilde, let me give you a quick overview.
He's a musician
He fights for his woman
He pours his heart into his words and his music
He's a bit of a bad boy
And most importantly,
Okay, so maybe that last one isn't technically a trait, but it's a fact. And bonus? Where She Went, the sequel to If I Stay, is told in Adam's raw, authentic, swoon-worthy point of view. And added bonus? His poetic, emotional lyrics are included throughout the book.
Yes, I have many book boyfriends—boys I will be sharing and discussing and sighing over with you here in the months to come—but Adam Wilde will always be at the top of my list. I highly encourage you to discover him for yourself…just remember, I called him first.
So who is YOUR number one book boyfriend?
About Author