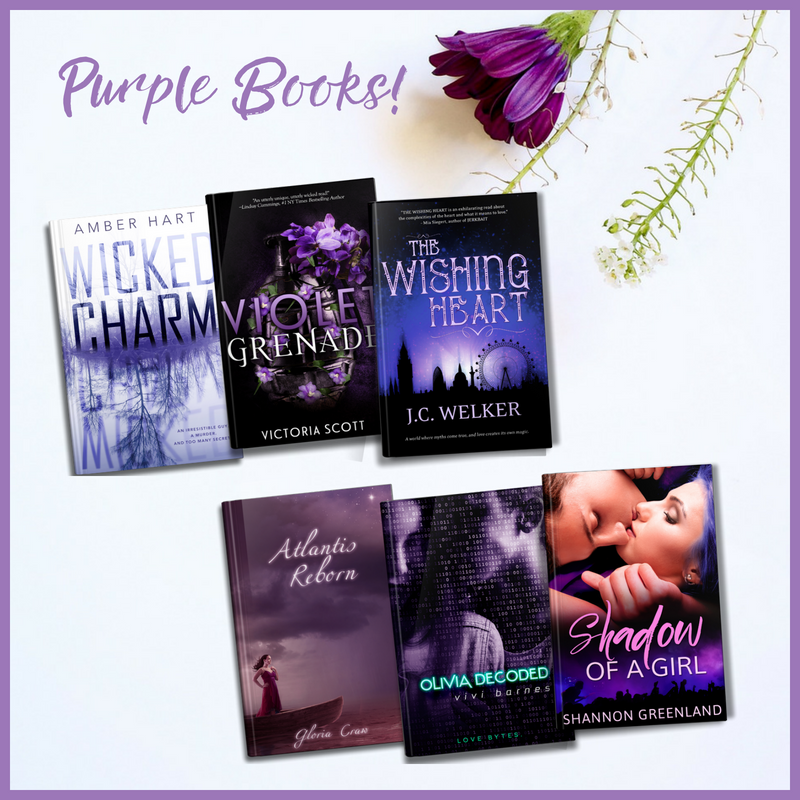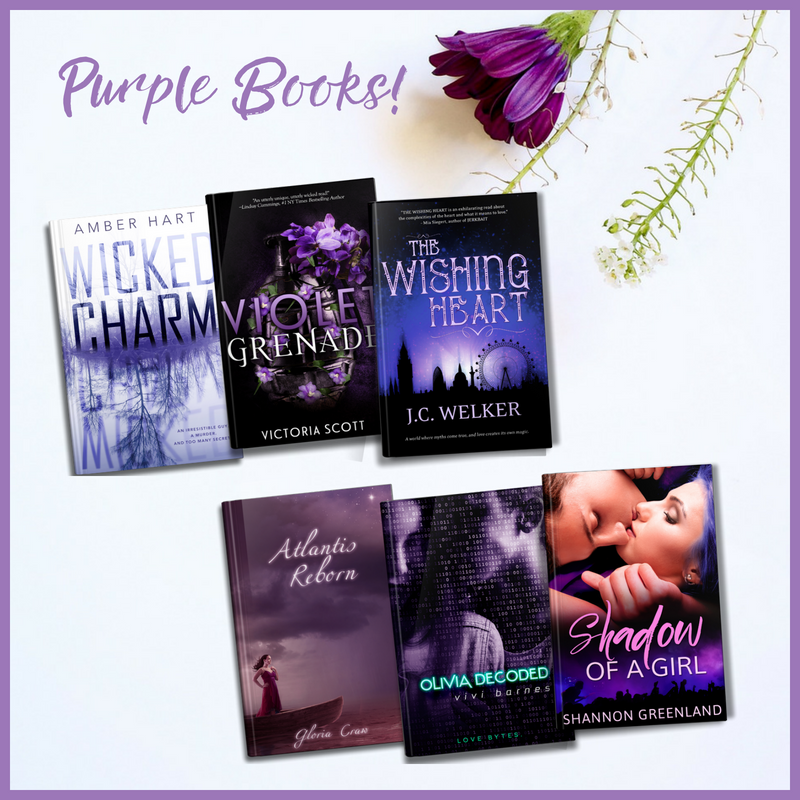 We're seeing purple this week. Check out these pretty in purple reads.
Wicked Charm by Amber Hart
Nothing good comes from living in the Devil's swamp.
Willow Bell thinks moving to the Okefenokee area isn't half bad, but nothing prepares her for what awaits in the shadows of the bog.
Girls are showing up dead in the swamp. And she could be next.
Everyone warns Willow to stay away from Beau Cadwell—the bad boy at the top of their suspect list as the serial killer tormenting the small town.
But beneath his wicked, depthless eyes, there's something else that draws Willow to him.
When yet another girl he knew dies, though, Willow questions whether she can trust her instincts…or if they're leading to her own death.
Violet Grenade by Victoria Scott
Her name is Domino Ray.
But the voice inside her head has a different name.
When the mysterious Ms. Karina finds Domino in an alleyway, she offers her a position at her girls' home in secluded West Texas. With no alternatives and an agenda of her own, Domino accepts. It isn't long before she is fighting her way up the ranks to gain the woman's approval…and falling for Cain, the mysterious boy living in the basement.
But the home has horrible secrets. So do the girls living there. So does Cain.
Escaping is harder than Domino expects, though, because Ms. Karina doesn't like to lose inventory. But then, she doesn't know about the danger living inside Domino's mind.
She doesn't know about Wilson.
The Wishing Heart by J.C. Welker
2018 YARWA Athena Award Finalist
With a book in her bag and a switchblade in her pocket, Rebel's been thieving her way through life while hoping for a cure to fix her ailing heart.
But when the bejeweled vase she just tried to hawk turns out to be a jinni's vessel, Rebel gets lost to her world and dragged within another. Now every magical being in the city wants the vase for himself.
Thrust into a game of cat and mouse in a world she never knew existed, Rebel must use her uncanny skills to find a way to free Anjeline the Wishmaker.
But wishes have consequences. And contracts. Anjeline's freedom could unravel a love like Rebel has never known, or it could come at the cost of Rebel's heart…
Atlantis Reborn by Gloria Craw
In a few days, I'll officially be the Laurel clan chief—but it comes at a heavy cost. My human family, the McKyes, think I'm dead, and the only family I have left is my surly cousin, Theron. Plus the occasional visit from my dead mother.
Gathering the fifteen clans of Atlantis is more tasking than I thought. Thank fate that Ian has my back, otherwise keeping the peace would be a total disaster. I want to give him my heart, too, but without an official likeness, or spontaneous pairing, it's only wishful thinking. To make matters worse, someone out there has the formula to create human-Atlantian hybrids. For a hefty price.
Certain chiefs are so desperate to increase our population that they refuse to see the price might be more than money; it could cost us our souls. If I can't change their minds, the descendants of Atlantis could disappear forever.
Olivia Decoded by Vivi Barnes
Olivia: This isn't my Jack, who once looked at me like I was his world. The guy who's occupied the better part of my mind for eight months.
This is Z, criminal hacker with a twisted agenda and an arsenal full of anger.
Olivia's spent the past year trying to get her life on track. New school. New friends. New attitude. But old flames die hard, and one look at Jack—the hacker who enlisted her into his life and his hacking ring, stole her heart, and then left her—and every memory, every moment, every feeling comes rushing back.
But Jack's not the only one resurfacing in Liv's life.
Jack: If there was any part of her that still wanted me, even a little, I'd never be able to let her go. But I couldn't do that to her. She deserves better than a criminal like me.
When a stalker hell-bent on scaring Liv and framing Jack enters Liv's life, Jack and Liv will have to work together to find out who it is before someone gets hurt, or worse. But can Liv learn to trust Jack again, when he can't—or won't—give up his life of hacking for good?
Shadow of a Girl by Shannon Greenland
Use cash and keep moving. 
After I ran away from home, these were the two rules that dictated my life. Scoring a job as a roadie fit perfectly for what I needed. Traveling, cash, and life out of the spotlight.  But when my path collides with West, the lead singer of Bus Stop, I can't seem to stay out of hisspotlight—especially since we'll be touring together for an entire year.
West is determined to break down my walls. He won't give up. And little by little they come crumbling. But if he knew what lurked behind them, he wouldn't be so eager to get rid of them.
The more time we spend together, the more the lines of our friendship become blurred. He makes me dream of things I never thought possible. But while our friendship has been evolving into a romance, my secrets have been closing in. And just when I've decided to reveal my past to West, I'm confronted by it. The cost of my freedom could ruin the life of the guy I love…
About Author